Rex Stardust, lead electric triangle with Toad the Wet Sprocket, has had to have an elbow removed following their recent successful worldwide tour of Finland. Flamboyant ambidextrous Rex apparently fell off the back of a motorcycle. "Fell off the back of a motorcyclist, most likely," quipped ace drummer Jumbo McClooney upon hearing of the accident. Plans are now afoot for a major tour of Iceland.
And thus did Monty Python birth the name of alt rock heroes, Toad the Wet Sprocket, in an old sketch called "Rock Notes". Apparently the band was a big fan of Python and couldn't settle on a name, so they just snagged this one. It was meant to be temporary, but it just stuck.
Fortunately, the multitude of differing and evolving beers that show up in brewpubs lends itself to eccentric names, obscure references, lame/awesome puns, and so on. Thus Toad the Brett Rocket, a dry hopped saison aged in wine barrels with Brettanomyces, was born. With an awesome label depicting a toad riding a barrel-shaped rocket. This is not quite the revelation that Hallowed Ground was, but these bottle releases are not to be slept on. Er, strike that. Let's keep these things manageable and not get out of hand. Nothing to see here, move it along: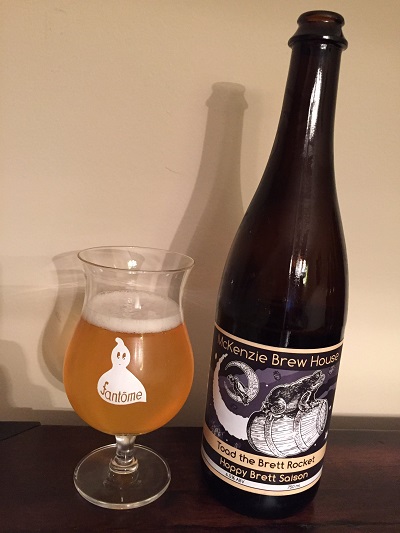 McKenzie Toad the Brett Rocket – Pours an almost clear golden yellow color with a finger of white head. Smells very nice, citrusy hops, vinous fruit, earthy Brett. Taste starts off sweet, hints of white wine, lemon peel, citrusy hops, a bit of tartness, then it moves on into more funky, earthy Brett territory, light but lasting through the finish. Mouthfeel is well carbonated, medium bodied, and lightly acidic, very refreshing summer spritzer type of thing. Overall, this is another winner, though perhaps not quite as great as Hallowed Ground, it still earns an A- in my book. Er, blog. This is a blog.
Beer Nerd Details: 6.5% ABV bottled (750 ml). Drank out of a tulip glass on 7/8/16. Released: 6/28/16.
It's nice to see that older local breweries are still managing to do interesting things, and I will most definitely be snagging more McKenzie bottles whenever Nate puts them out.