Remember the days when anything Belgian, even American imitations of such, was noteworthy? Alright, maybe you don't, but I spent a goodly portion of my youth pining for generally unavailable Belgian abbey ales and so on. Even earlier in the days of this blog, you could see wildly inflated ratings for well made dubbels and tripels. These days I'm so addled by juicy milkshake IPAs, tropical fruit hops, funky brett saisons, tooth-enamel-stripping sours, and bourbon barrel aged wonders that taking a step back and pondering a simple Belgian style tripel actually feels novel and refreshing.
Simple, but I should add: not easy. Most American takes on the Tripel style are a little too sticky sweet, not dry enough, and/or not carbonated enough. These styles are flavorful, but not in a way that is easily masked by adding craptons of hops or coffee or whatever the adjunct of the week is… Belgian beers really get their character through fermentation and yeast, and that's not as easy as it sounds. There's a delicate balance that those Trappist Monks over in Belgium seem to have mastered. The occasional American take works well, and of course we like to explode the style with Apple Brandy Barrel treatments and souring bugs and whatnot, but those things don't really count, do they?
Enter Florida's Barrel of Monks, a year-ish old brewery in Boca Raton that specializes in the regular-ol' Belgian pantheon, including a whole series of Abbey styles and the occasional special release. No IPAs, no Goses, just straight up Belgian standards, and if this tripel is any indication, the 8 years they spent developing these recipes were well worth it. Three Fates is an allusion to three sister deities in Greek Mythology who controlled life and destiny. So let's make like Atropos, cut the thread of this introduction, and get to the review: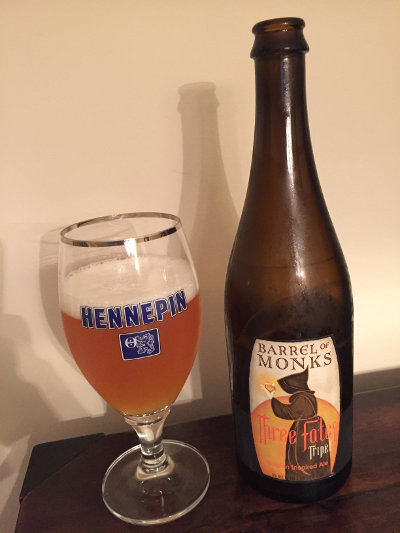 Barrel of Monks Three Fates Tripel – Pours a slightly cloudy pale with a finger and a half of head, lots of visible carbonation. Smells nice, light on the fruity esters, heavier on spicy phenols, clove and the like. Taste hits the same Belgian yeast notes, fruity and spicy, cloves, etc… Mouthfeel is highly carbonated, crisp, almost effervescent, relatively dry. Overall, this is an exceptional take on the style from an American brewer. Maybe it's just because I haven't had a great one in a long while, but I'm feeling generous so let's go A-
Beer Nerd Details: 9% ABV bottled (750 ml). Drank out of a goblet on 6/25/16.
Thanks again must be given to Kaedrin beverage compatriot Steve for slinging this my way. I may need to acquire some more of these fellas wares.