So it's called Forest Ghost, but it's got palm trees and a beach on the label? Like, I'm sure ghosts enjoy traveling and vacations and all, but what's going on here? It turns out that this beer is brewed with Brazilian spices and since Brazil is known for their palm trees and forests, et voila! As per usual, I went into this with no idea what to expect and of course bustin' always makes me feel good: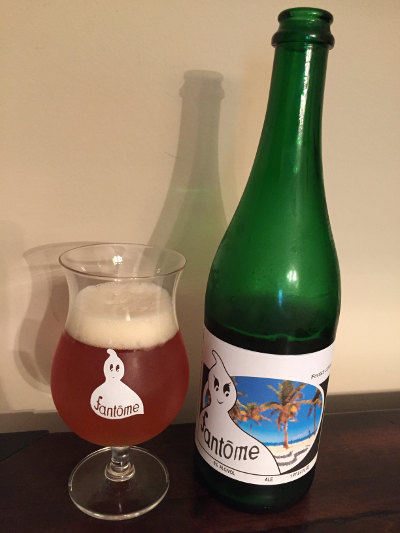 Fantôme Forest Ghost (Light) – Pours a mostly clear dark orange color with a couple fingers of fluffy, dense white head that sticks around for a bit. Smells nice, candied malt, typical earthy Brett funk, maybe hints of fruit too, banana and raisins maybe? Taste has a nice sweetness up front, followed by some of that earthy Brett, noble hops, maybe some unidentifiable spice (peppery? Maybe it is identifiable), and finishing with that raisiny banana note. Mouthfeel is fuller bodied and richer than expected, though it's not a monster by any stretch. Well carbonated, tight, and balanced. Overall, rock solid stuff here, yet another interesting spin from Dany. B+
Beer Nerd Details: 6% ABV bottled (750 ml capped and corked). Drank out of a tulip glass on 7/15/16.
I've got the "Dark" version of Forest Ghost in the pipeline as well, though I may end up sharing that one with some friends. Always looking for more Fantôme!