After sleeping on these SingleCut beers for a while, I'm slowly making my way through celebrating their entire catalog, and yes, this has been a good idea. As per usual, their beers are named after some sort of rock music reference and in this case, we're talking about a line from Pink Floyd's "Breath (Reprise)" (aka the end of "Time") from The Dark Side of the Moon. It's a wonderfully evocative line, calling to mind love and loss and… hobbits. So lets get to it. I predict mystery, enchantment, and hops: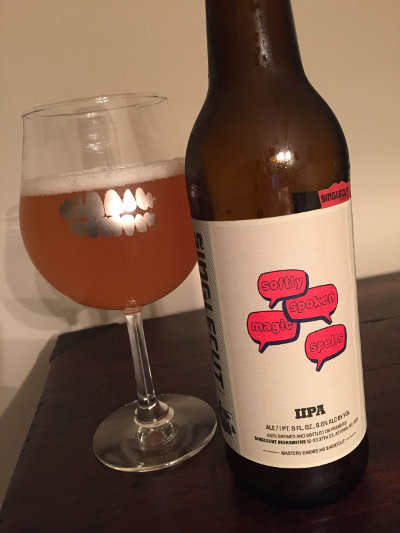 SingleCut Softly Spoken Magic Spells – Pours a murky orange color with a finger of white head. Smells of tropical fruit, mangoes, pineapple, grapefruit and the like, very nice nose. Taste starts off sweet, hits that juicy citrus character pretty hard, followed by some dankness in the middle, finishing back on the tropical fruit tip with just enough bitterness to keep things interesting. Mouthfeel is medium bodied, dense, moderately carbonated, hints of pleasant booze, goes down easy. Overall, yup, it's fantastic, maybe a step above 18-watt. A-
Beer Nerd Details: 8.6% ABV bottled (500 ml). Drank out of a charente glass on 7/23/16. Bottled on 7/13/16. Ultra fresh buddy.
So these beers are quickly escalating to must buys, and you'll no doubt be seeing more from SingleCut in the nearish future.