South Florida's Barrel of Monks has been a solid discovery and I've really enjoyed checking out their standard takes on Belgian styles (a lot of American breweries dabble in this sort of thing, but few succeed as well as BoM), not to mention their more funky efforts. There's something to be said for an expertly brewed Dubbel or Tripel, but you know me: I'm not going to turn down a barrel-aged effort either.
Speaking of which, the first of our double feature is a Bourbon Barrel Aged variant of their Father Christmas beer, basically a Belgian style strong dark brewed with mulling spices (like clove, cinnamon, and ginger). As an added bonus, Barrel of Monks is living up to their name… now I just need to procure more of their Barrel Aged wares (limited as they may be). Due to a mix up in the Kaedrin procurement department, this didn't arrive until well after Christmas, but hey, why not extend the season a little:
Barrel of Monks Bourbon Barrel Aged Father Christmas – Pours a deep, dark brown color with a finger of tan head. Smells very nice, dark fruit, raisins, plums and the like, a little spice, cloves, coriander, and whatnot, plus a little bourbon, oak, and vanilla. Taste starts off rich and sweet, with that dark fruit character coming through, followed quickly by spicy phenols like clove, finishing with a boozy bourbon note. Mouthfeel is medium to full bodied, but nimble, perhaps due to the high-ish carbonation which cuts through the richness and the booziness. Overall, this is really enjoyable and they managed the bourbon barrel aging well, imparting complexity without completely overwhelming the base. A-
Beer Nerd Details: 10% ABV bottled (750 ml copper waxed cap). Drank out of a tulip glass on 1/19/18. Vintage 2017.
Next up in the double feature is a pretty straightforward Belgian style stout. This is perhaps not the most common or popular of the Belgian styles (inasmuch as you can really categorize them), and I must admit that this is the sort of thing that usually makes me wish I was drinking one or the other (i.e. a straight up imperial stout or a standard Belgian strong dark). On the other hand, this does fare well when compared against others of the style, which has become my expectation for BoM: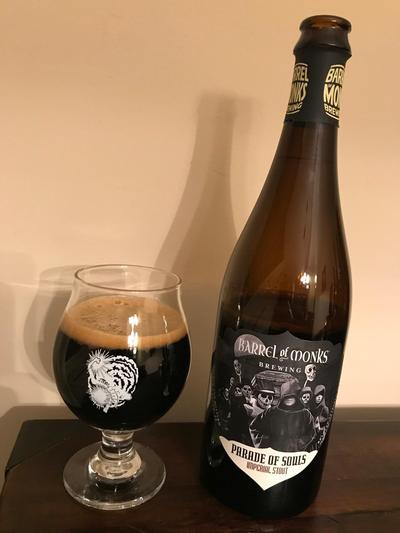 Barrel of Monks Parade of Souls – Pours a black color with a finger of light brown head. Smells sweet and a little spicy, maybe some dark fruits. Taste is very sweet, lots of Belgian yeast character, fruity esters, spicy phenols, a little caramel and maybe a faint hint of chocolate. Mouthfeel is highly carbonated, but still medium-to-full bodied, plenty of residual sugar there, but not cloying. Overall, this feels more like a Belgian Strong Dark than an Imperial Stout, but it comports itself well enough. Still, pretty good for a style that has often left me cold… B+
Beer Nerd Details: 10% ABV bottled (750 ml). Drank out of a tulip glass on 1/21/18. Vintage 2017.
While I don't think these guys are lighting up the ISO trading boards, I'm quite glad to have a somewhat regular Florida connection who can snag me some bottles. Many thanks to Kaedrin beverage compatriot Steve for slinging these my way.