When I was in college, my friends and I were on the Campus Activities Team (I ran the movie program, natch) and we had this (in retrospect) utterly bizarre habit of designating office supplies with old-people names. Of particular note were tape dispensers named Phyllis and Gertrude. I don't think we had anything named Bernice, but we certainly should have. I'm… glad I was able to write about this, and I know you are too.
I'll let eponymous owner Adair Paterno describe this Brett dosed saison in more detail: "I think that Saison Bernice is the purest expression of what our house culture can do to a base saison, specifically, our house saison, Anais, without oak and/or a significant amount of aging time." Presumably they named it after someone important in their lives, but I'd like to think that somewhere at the SARA headquarters there's a tape dispenser with the name Bernice scrawled on the side in whiteout. Let's dig in: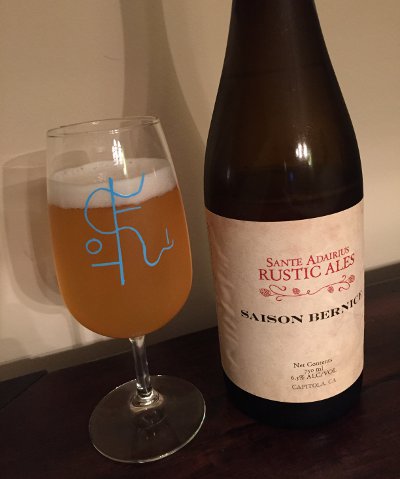 Sante Adairius Rustic Ales Saison Bernice – Pours a bright, luminous yellow color with a finger of white head. Smells wonderful, nice earthy funk component, especially as it warms up, with lots of vinous fruit, lemons, tangerines, nectarines, you know, fruit type stuff. We get real technical here at Kaedrin, get used to it. Taste hits those same elements, a little more in the way of earthy funk here, but it's all brightened up by those notes of juicy fruit, lemony tartness creeping in towards the finish. Mouthfeel is crisp, light, and utterly quaffable, very refreshing and croosh. Overall, this is a fabulous saison in the Logsdon Seizoen Bretta mold, maybe even a little more nimble; definitely funky, complex, juicy, and delicious. A
Beer Nerd Details: 6.5% ABV bottled (750 ml). Drank out of a flute glass on 5/6/16.
Drinking SARA beers is always a pleasure. Many thanks to the hibernating blogger Jay from BeerSamizdat for sending this one my way. Fortunately, there is another SARA beer in the pipeline, so look for a review in the near future…