Not long ago, I was thinking to myself, self, we haven't drank any non-Islay Scotch in quite some time. Don't get me wrong, I love wondering who put their cigar out in my whisky, and peaty Islay Scotch does the trick quite nicely (and don't worry, we'll get back to Islay later this month). But I was in the mood to branch out a bit, and my attention was brought to Aberlour A'Bunadh. I'm reliably informed that this is pronounced "ah-boo-NARRRGGHHHHH", which is fun in and of itself, even if it's not at all true. Seriously, though, it translates to "the original" from Gaelic, and is thus an ode to Aberlour's founder.
A'Bunadh is a series of heavily sherried malts that are bottled at cask strength. There's no age statement, but it's rumored to be a mix of young and old malts aged exclusively in Spanish Oloroso Sherry butts. There is reportedly a bit of batch variation (my bottle was from batch 47), which has lead to quite a following amongst Scotch nerds. Some people just gotta catch them all, I guess. Me, I was just trying to get a closer look at sherried malts, and I was quite pleased with this selection. I don't know how much stock to put into the variation between batches, but I gather that I lucked out with this bottle, as Batch 46 was apparently "less than stellar" while Batch 47 put Aberlour "back on top". From this one bottle, I also gather that a freshly opened bottle has a more pronounced character than one that's been open for a while, something that others have noted as well. I actually wrote this review back in December, and am just now getting to it, so let's not delay any further: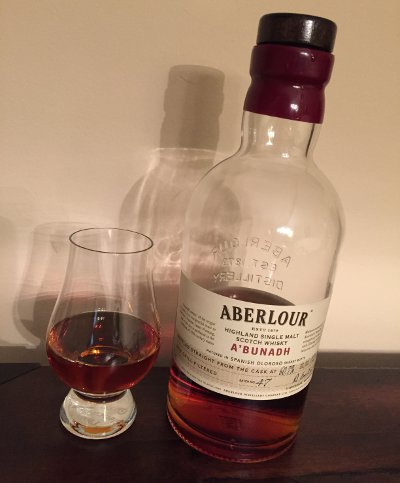 Aberlour A'Bunadh – Pours a warm orange color with a hint of red when you look at it in the right light, lots of ample legs. From the smell, the sherry influence is immediately apparent, but you also get a nice spicebox. Candied fruit, raisins, cinnamon, actually a little on the festive side. As you add water, the fruit lessens and the spicebox increases. I'm also getting a nice waft of something almost fudgelike, cacao nibs and the like, really quite nice. Taste is a little on the hot side, which I guess is to be expected from a cask strengther like this, but the spicebox comes through strong, with a nice fruity sherry influence too, those raisins and other dried and candied fruits, only hints of the fudge. Mouthfeel is thick and oily, and quite hot. Water helps smooth it out some, make it more approachable, but at the cost of intensity. Was definitely a bigger sherry bomb when I initially opened it, but it's still drinking quite nice. Overall, a very nice sherry finished scotch, one I'm really happy I tried. Indeed, it seems just about perfect for the likes of me, a mere dabbler in the world of whisky.
Whisky Nerd Details: 121.4 proof (60.7% ABV) bottled (750 ml). Drank out of a glencairn glass on 12/9/15.
Beer Nerd Musings: We don't see much in the way of Scotch barrel aged beer in the USA, though the occasional imported Mikkeller or Brewdog or whatever can catch my eye from time to time. Very rarely, a brewery in the US will import some old Scotch barrels and try them out, but I'm guessing it's a pricey proposition (especially when we've got all these bourbon and wine barrels sitting around looking for a home). Islay barrels pretty emphatically don't work with beer, completely overpowering the base, but Aberlour? Old Sherry casks? Yes, I think those would do quite nicely! In fact, the meager remainder of this bottle is currently soaking into some oak cubes for my next experiment in oak aged homebrew. I'm naturally planning on making a Scotch ale, and what could be better than using some Scotch? Especially something like this, which seems like it would complement the style quite well. Now I just need to get off my arse and get a brewday going…
Next up on the Scotch front, we've got some old Caol Ila that I'm hoping will be quite nice. In the meantime, we've got some Port wine on deck, and a couple bourbons later in the week.