I have been very fortunate to have sampled deeply from the Hill Farmstead catalog, but the grand majority of my experience has been with their highly sought after IPAs and their saisons. When it comes to barrel aging, I've not had much at all. A small bit of Flora at a tasting once, maybe one of their collaborations, but otherwise not so much. Thus, when I lucked into Civil Disobedience #14 during my last visit, I was quite excited. Per early reviews, the carbonation was still developing, and knowing the way I generally react to such a thing, I decided to sit on the bottle for a few months (and yes, the carbonation was indeed fine when I drank this).
Civil Disobedience is a "Blended Barrel Series" and this is the 14th batch (most batches are pale like this one, but every 4th batch tends to be a darker blend). This batch is a blend consisting primarily of barrel aged Anna and Florence from Summer 2012 through Summer 2013. It was bottled in January 2015 and released on July 8, 2015, so it appears the beer spent quite some time in the barrels (16 to 30 months). I have never managed to wrangle Anna, but I bought two cases of Florence a couple years ago and it has developed into one of my go-to saisons, very light, but tart, perky, and delicious. So let's brush up on our Thoreau and stage a nonviolent beer drinking session: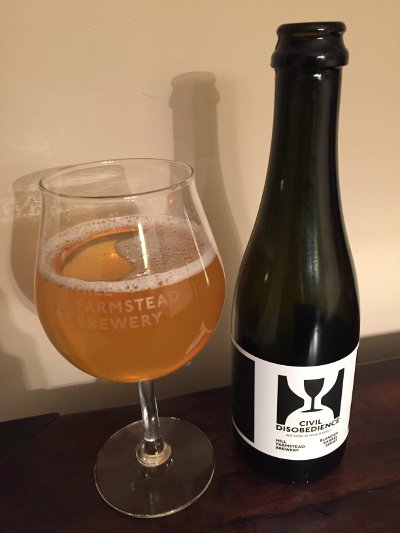 Hill Farmstead Civil Disobedience #14 – Pours a hazy yellow color with a finger of big bubbled head that is not long for this world. Smells very nice, light funk, musty and earthy, lots of vinous fruit, some more tart, lemony character, maybe a little oak. Taste is sweet, lots of vinous fruit, tannins, a nice moderate sourness, well balanced oak. Mouthfeel is well carbonated, medium bodied, moderate acidity, a little dryness up front, but more sticky in the finish. Overall, this is some fabulous stuff. A
Beer Nerd Details: ? ABV (somewhere around 5.5-6%) bottled (375 ml). Drank out of a charente glass on 2/5/16. Bottled: 01 2015. Batch 14.
I have to say, these Hill Farmstead saisons seem to age pretty well. 2014 Florence is drinking fabulously right now, and I'm betting bottles of 2015 Arthur are starting to peak too. Dorothy's hop character is fading (and I don't think I have any left), but it's still pretty good anyway. Counting the days until my next trip, which is vexingly vague right now (though definitely a trip in July, we may figure out an earlier jaunt).