Every now and again, you'll run across a certain type of beer nerd who will suddenly proclaim that beer is, like, totally played out and they're just going to focus on cider from now on. Some of these people are just playing weird status games, others are genuinely fed up with certain less-than-desirable aspects of beer nerdery. Fair enough, but I don't think you'll see me blazing that particular path anytime soon.
However, since I'm currently embroiled in my annual quasi-hiatus from beer, there's no reason not to dip my toes into the cider world. A friend of mind got me this bottle for Christmas and I must thank him for attempting to broaden my horizons. Plus, I've never had anything but mass-produced ciders from the big guys, so trying something at a lower level would probably do me good.
I don't know squat about cider, but this is a New England style sparkling cider, a blend of traditional crab apples, Stayman Winsap, and other unnamed apples (imagine the potential for varietal nerdery with apples *shudder* Maybe Stayman Winsap is the Cascade of apples?), fortified with brown sugar and matured on French and American oak. I don't know what a lot of that means, but it sounds pretty good. I mean, brown sugar? Oak? My kinda cider! Let's take a closer look: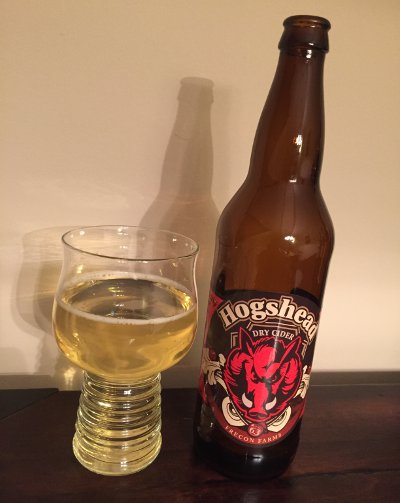 Frecon Farms Hogshead Dry Cider – Pours a very pale, clear light yellow color with some white fizz around the edge of the glass and lots of rising bubbles (may be the glassware at work here). Smells quite nice, actually, apples certainly show up, but it's got a nice almost musty funk to it that isn't strong, but works. Taste starts off sweet, certainly apples showing up here, and as the taste proceeds, it dries out a bit, light oak and tannins appearing to take over. Mouthfeel is well carbonated, light bodied, and dry. Most ciders I've had are cloyingly sweet, and this is the complete opposite. On the other hand, it's a pretty subtle drink, not a lot of pop to it. Fine for what it is and better than any cider I've ever had, for sure, but I'm still not entirely sold on ciders just yet. That being said, this does make the prospect of trying more palatable. B
Cider Nerd Details: 8.5% ABV bottled (22 ounce bomber). Drank out of a libbey cider glass on 2/12/16.
Beer Nerd Musings: I'm guessing cider is more a study in subtlety than beer, with differences between styles being harder to pick up on than with beer, and so on. This seemed well made, but lacked the intensity of an 8.5% beer. Not that it has to have that sort of intensity to be worthwhile or anything, and I certainly don't care for the more intense (i.e. cloying) varieties of cider that I've had. I haven't had many ciders, but I have had a couple of cider/beer hybrids. Tired Hands did a couple a while back, one a hoppy blend, the other a Berliner blend, both were pretty darned good, but perhaps that was novelty speaking (and to be sure, they're sorta hard to categorize). Perennial has something called Jack Rose that's made with apple juice, but I haven't tried that yet.
So there's my first cider review. I liked it well enough, but I wouldn't hold my breath waiting for more!