We've been mightily impressed with Allagash's seemingly expanded sour program, so we've been keeping an eye out for more of this stuff, and fortunately, Allagash has obliged my whims. A pretty steady stream of new bottles has been showing up from time to time, and I'm always willing to take a flier on these, even if they are a bit of a pricey proposition. Interestingly, several of their sour beers are aged on stainless steel rather than more traditional barrels, and I have to say, it doesn't make as big of a difference as I'd think. I loved Farm to Face, and the better of today's double feature was also a straight stainless steel offering (of course, it was still aged 2 years, so maybe that's part of it).
First up is Tiarna, a blend of two beers, one a Brettanomyces fermented ale aged on oak, and the other a Belgian ale aged on stainless steel. It's a nice beer for sure, but not quite up to their best offerings: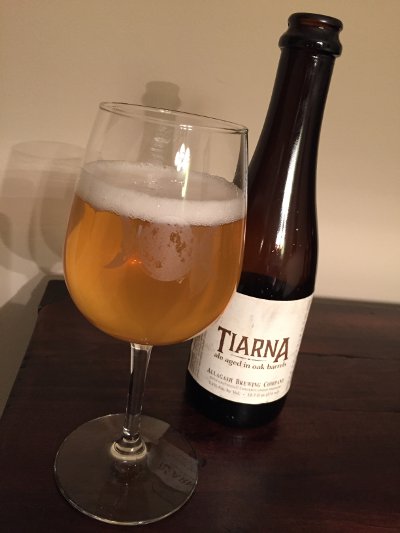 Allagash Tiarna – Pours an almost clear pale yellow color with a finger of fluffy white head that sticks around for a while. Smells quite nice, typical belgian yeast spice notes of clove and maybe anise, some fruity esters, but also that earthy Brett funk. Taste hits more bready and yeasty than expected, hints of those spicy phenols and fruity esters (not really tart at all), a bit of funk, a little oak pitching in too. Was really hoping for a little more funk and oak here. Mouthfeel is well carbonated, crisp, lightly bodied, relatively dry. Overall, this is like an entry level funky saison. It's complex and well crafted, but restrained. I have to wonder if the funk would increase over time in the bottle, but for now: B+
Beer Nerd Details: 7.1% ABV bottled (375 ml caged and corked). Drank out of a wine glass on 1/30/16. Bottled: Sept. 16, 2015.
Next up is James and Julie, presumably named after two people who worked at the brewery or something. Or just two random people off the street, for all I know. It's their take on a Flanders Oud Bruin, a sour brown ale that is aged on stainless steel with Lactobacillus and Pediococcus cultures. Rumor has it that this is the base beer for Neddles (which is the same thing aged on Rum barrels and named after a former employee), but I'll be damned if this isn't pretty spectacular just by itself. It's not super funky, but it's got a very nice sourness and balance to it that just works beautifully: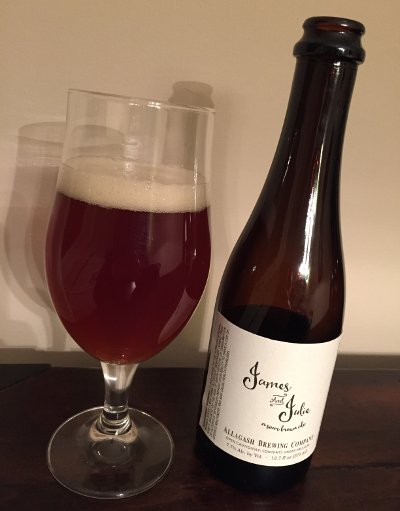 Allagash James & Julie – Pours a light brown amber color with a finger of off white head that holds its own for a while. Smells of vinegar, tart fruit, sour cherry, maybe a hint of earth. Taste starts off sweet, lots of flavor, sour cherries, vinegar, perfectly balanced amount of sourness here, really tasty. Mouthfeel is medium bodied, well carbonated, perfectly balanced amount of acidity. Overall, intense but balanced, this is a true winner. A
Beer Nerd Details: 7.7% ABV bottled (375 ml caged and corked). Drank out of a goblet/chalice on 1/30/16. Bottled: Aug. 24, 2015. Released: Black Friday 2015.
Always enjoyable catching up with Allagash, and I will of course be keeping an eye out for more stuff, particularly their sours, which seem to hit me just right.