I've never particularly cared for the movie Sideways. It was well done and entertaining enough, I guess, but it never really resonated with me. The main character of Miles, played brilliantly by Paul Giamatti, was just not my kinda guy and as a beer nerd, he represented one of the foolish reasons why beer and wine shared some sort of supposed enmity. Or something. I never really got it, and real beer and/or wine enthusiasts are pretty comfortable with both worlds. Not being particularly knowledgeable in the world of wine (as has been frequently established during the tenure of this website, I'm the worst), I never really picked up on how insecure and ignorant the character was. It turns out that Miles isn't nearly as much of an expert on wine as he wishes he was.
So his exhortation that he will not be "drinking any fucking Merlot!", while apparently swaying the entire country from drinking Merlot for, like, 5 years, never really held much influence with me. It appears to be one of the key components in Bordeaux wines (which seem to be the most highly sought after wines in the world, commanding ridiculous prices, etc…) and wines like Pétrus (which is all Merlot) certainly didn't suffer from Miles' wanking. So when a buddy of mine recommended this particular wine to me, I was totally on board.
When I bought it, the guy at the store seemed impressed by my selection, noting that Stag's Leap was a venerable producer. Looking into it now, it seems this particular wine is not made at their vineyards, but sourced from other Napa Valley producers. Whatever the case, it turned out well enough that I'd be curious to try more from them, and it was so different from the Sagrantino I had the night before that it made for a really nice contrast.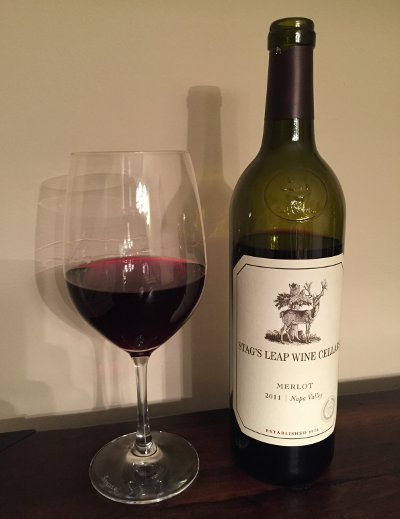 Stag's Leap Merlot – Pours a deep, dark red color, beautiful reddish purple highlights and some decent legs on it. Smell is fruit forward, lots of jammy blackberries and raspberries, maybe a hint of something herbal or spicy, a very nice oak and vanilla opens up after some time. The smell reminds me of something that I can't quite place; it's quite nice though. Taste has a sweet richness to it that is very nice, lots of fruit jam again, blackberries, raspberries, jammy, plenty of oak and vanilla character, hints of spice and low tannins in the finish. Mouthfeel is silky smooth, a little rich, full bodied, sweet. Not much in the way of dryness at all. Overall, this is pretty fantastic! Perhaps not as complex as last night's Sagrantino, but it's a very well balanced and delicious wine, and it's also something that can work well on its own (i.e. doesn't need to match with food and can be drunk by itself, though it does so just fine). I'm really glad I tried two wines that just happened to be so very different. I actually finished the whole bottle, which I think says something! A- though, again, what the hell do I know?
Wine Nerd Details: 13% ABV bottled (750 ml). Drank out of a wine glass on 3/14/15. Vintage: 2011.
Food Pairing: I actually spent much more time working on the pairing with this than I did with the Sagrantino (though I think I probably could have reversed the wines for each meal and done just as well). I made a pan seared duck breast and hot wet rice (aka risotto), and the Merlot did an admirable job matching with the meal, though as noted above, it worked just as well on its own (no need to pair this with food) and went down quite easy.
Beer Nerd Musings: Merlot barrels have been used for a few sour beers, notably BFM's Abbaye De Saint Bon-Chien beers (which include a large variety of barrels). Merlot grapes were used in Cantillon's Saint Lamvinus, along with Cabernet Franc, all aged in old Bordeaux barrels. Both European beers, but also both tremendous and well respected in their own right (seriously, just try to find a bottle of Saint Lamvinous for less than $50 in the states). I don't know of any American beers that are specifically called out as using Merlot barrels, but I wouldn't be surprised (still, I tend to see a lot more Cabernet or Chardonnay barrels than anything else). Obviously, many sour beers have a sweet, fruity vinous feel to them that matches the experience here.
So there you have it. Miles is full of shit, and that was kind of the point. That being said, I'd love to try one of the Cabernet Sauvignons from Stag's Leap (alas, they seem prohibitively expensive)…