Non-beer drinking continues with a weekend full of wine, but since my wine knowledge is minimal, I looked around for recommendations. This particular selection has its origins in a Beer Lover's Guide to Wine that was posted by a friend of mine right after last year's Philly Beer Week. It seems to be a great overview of wine from a beery perspective. When he recommended a bunch of wines based on local beers, and one of the options was "Whatever's on draft at Tired Hands", I knew I had to check it out. The particular bottle recommended was, of course, no longer available, but when I spoke with the author, he mentioned that it was really about the grape: Sagrantino.
It's a pretty rare grape, only cultivated in the village of Montefalco and its surrounding areas, and is little known outside of the region of Umbria in Central Italy. It seems to be a somewhat common component in blends, but wines like this particular bottle are produced exclusively from Sagrantino grapes and feature a DOCG status designation (basically noting that the wine is produced within a specified region using defined methods and meeting a certain degree of quality). The vineyards are located in a bowl surrounded by mountains, and the soil is primarily comprised of clay with limestone and sand. The weather tends towards extremes, heat in the summer and cold in the winter, but the hardy soil protects the grapes from extreme heat and the mountains provide a cool breeze at night. The grape fell into obscurity for a while, but has received a renewed interest in the past few decades.
Sagrantino is known as an exceedingly tannic, astringent red grape. For the uninitiated, tannins in wine are derived from the grape skin and provide a certain amount of bitterness and mouth-drying feeling (similar to how hops provide bitterness to beer, though in this case the tannins are built right into the grape itself). This generally yields a very dry wine with a full body that matches well with hearty meals.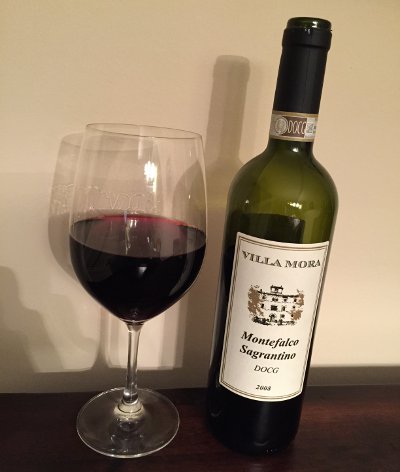 2008 Villa Mora Montefalco Sagrantino – Pours a deep, dark red color, beautiful highlights when held up to light, moderate legs. Smells fantastic. Sweet, dark fruit, plums and the like are certainly present, but there's something earthy and rustic that really sets it apart. Leather, tobacco, oak, maybe even chocolate. Taste starts with all those earthy notes, quickly movies into dark fruit territory, plums, cherries, blackberries and the like, then a wall of tannins hit in the dry finish along with the return of those earthy flavors. Mouthfeel is full bodied, extremely dry, and a little astringent. It goes fantastic with rich foods, but is a bit too much to handle on its own. Overall, this is indeed quite funky and the Tired Hands comparison is not entirely unwarranted. Rustic, funky, robust, and complex, I quite enjoyed it. A- I guess, though I don't know where I get off rating wines. I'm the worst.
Wine Nerd Details: 14.5% ABV bottled (750 ml). Drank out of a wine glass on 3/13/15. Vintage: 2008.
Food Pairing: I didn't quite realize how important the food pairing would be with this wine, but I did have two separate things that went reasonably well. The first was a stromboli with Italian sausage, green peppers, and basil (along with the typical red sauce and mozzarella) that was quite hearty and matched well with the wine. Later, I had some charcuterie of wild boar that actually worked well too (supposedly, wild boar is a regional pairing, so it seems I chose well on this particular occasion). From what I can understand, this wine would go very well with various grilled red meats, so that's also an option.
Beer Nerd Musings: I don't know of any beers aged in Sagrantino barrels, though I'd be really curious about the result of such an endeavor. What effect would the high tannins have on the finished beer? I could see these barrels working for both sours and non-sour beers (though given the relatively exclusive nature of the grape, I imagine access to the barrels would be somewhat limited – perhaps there's some enterprising Italian brewers taking advantage of the situation). Obviously there's a parallel between tannins and hops, though it's not really a one to one comparison. Still, the earthy, funky components of this wine do really demonstrate just how extreme the differences in red wine can actually be (it wasn't quite so clear until Saturday, when I opened a Merlot that was exceedingly different from this wine – more details on Thursday).
So there you have it, a very interesting wine. I've already snagged a couple bottles for my cellar and plan on aging them a while (supposedly the high tannin content is actually very conducive to this sort of thing).