And so we enter the non-alcoholic portion of our temporary detour from beer (need to come up with a better name for this). For shame, I guess. But after the week I had (it was fat weekend, which entails exactly what you think it would entail), this was probably a good idea. Glorious tea™ drinking will continue for the next couple of weeks.
We start with Earl Grey tea. I've already gone over the boring historical bits, so that leaves the Star Trek connection. As if you didn't already know that I first glommed onto Earl Grey tea because Jean-Luc Picard was legendarily fond of this particular variety. This being the internets, there are of course plenty of nerdy discussions about replicator syntax (why wouldn't you just say "hot Earl Grey tea"? Perhaps because "it produce a reasonable facsimile of the Earl himself, steeped in tea?") and much in the way of merchandise. That being said, I like the note of citrus that's added to the black tea base, so I thought I'd check out a few different varieties.
Two are flavored with stuff not normally associated with tea, but as someone used to the rough and tumble adjunct game in the beer world, this does little to phase me. Tea. Earl Grey. Hot. Make it so: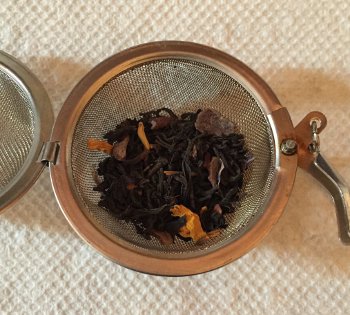 Chocolate Earl Grey – Leaves are very pretty and you can see actual chocolate chunks and some sort of citrus peel (apparently lemon) in there as well as some flowers (pictured above). The liquor is on the orange side of brown, it looks like a little sediment made its way in there too (probably my fault). Smell is dominated by that chocolate, not much else peeks through, maybe just the faintest hint of citrus. Taste is not quite as strong as the nose would imply, but it's got a little of that chocolate and the citrus comes out much more in the taste (especially towards the finish), all overlaying the typical black tea base. Mouthfeel is a little thin (I may not have used enough leaves and/or too much water) but very easy to drink as a result. Overall, I like this, a nice change of pace from the typical Earl Grey, though not exactly a replacement. The Chocolate feels a bit strange here, not artificial at all, but perhaps not quite right either. I'll have no problem finishing off my sample size packet, but it's probably not something I'd go for again…
Tea Nerd Details: 1 tsp for 8 ounce cup, steeped for 4 minutes at 212°.
Saint Isaac's Blend Russian Earl Grey Tea – Russia has a strong tea culture, often resorting to flavored black tea blends (Earl Grey a good fit!) and using ornate brewing vessels and those awesome gilded metal and glass cups (that I always associate with The Hunt for Red October). More of a standard looking black tea here, nice leaves, slightly less orange liquor than the chocolate version. Smells of a malty black tea and hints of that bergamot to lighten things up a bit. The taste has that malty feel you get from black tea up front, followed by a hint of that citrus on the back end. The citrus seems more subtle here, lurking in the background and reinforcing the base black tea character rather than overpowering. Mouthfeel is big and burly, but not too assertive, smooth and mellow. Overall, a very interesting, subtle take on your typical Earl Grey. I like it very much.
Tea Nerd Details: 1 tsp for 8 ounce cup, steeped for 5 minutes at 212°.
Vanilla Creme Earl Grey – Another more standard looking black tea, more brown than the above two. Smell has massive amounts of vanilla. I usually hate absurdly specific or weird descriptors, but this is totally a vienna finger aroma right here (i.e. vanilla creme cookies), with only faint hints of underlying black tea. The taste is more restrained, with the black tea components coming to the fore and the vanilla creme adding a little zing. Mouthfeel is somewhere between the above two – not thin, but not quite burly either. Overall, I really enjoy this one too, and it's another nice change of pace from your typical Earl Grey, though like the Chocolate version, it's not really a replacement. Again, there's that sorta weird, almost artificial flavor going on here that actually works well enough. Still not sure I'd go for more of this, though I think I liked it better than the Chocolate (I guess we'll find out as I finish off these samples).
Tea Nerd Details: 1 tsp for 8 ounce cup, steeped for 4 minutes at 212°.
Beer Nerd Musings: The two extra flavored varieties I tried remind me of Southern Tier's Choklat and Creme Brulee, though the imperial stout base comes through a little stronger than the black tea base does in the teas above. There are, of course, numerous beers made with chocolate and vanilla, but those two came to mind first (and if you've got a sweet tooth, they're worth checking out). I've mentioned beers brewed with tea before, like Dogfish Head's Sah'tea, and then, of course, there's my own tea experiment, when I used Earl Grey tea in an English Bitter homebrew (it turned out great, though the tea was not meant to be a hugely assertive character).
And there you have it, the first tea reviews of the year. Look for a few others before this accursed detour from beer ends (in about 11 days, not that I'm counting. Ok, fine, I'm counting. You got a problem with that? Fine, be like that.) And there'll probably be some wine and scotch as well, because why not?