Around this time of the year, I'm normally brewing up a batch of Fat Weekend IPA, a beer brewed for a specific gathering of portly individuals from across the country. Well, it looks like Fat Weekend will be scaled down a bit this year due to an inability to align schedules. A quorum of chubby friends will be traveling to New York, but we'll be spending most of our time at bars or restaurants, so no brew needed.
But just because it's not strictly needed doesn't mean I shouldn't make anything, right? I've actually been woefully inactive on the homebrewing front. My last brew, a barleywine that I ended up calling Trystero, turned out ok, though it never carbonated in the bottle and I had to dump it into a keg, where I was able to force that carbonation, at which point it was rather great. Well, it's kicked and I need something else to put in there, so here goes nothing.
I started from the base Fat Weekend IPA recipe and amped it up a bit, now hitting DIPA territory (though still on the lower end of that scale):
Beer #16: Double IPA
Full-Batch (5 gallons)
March 7, 2015
12 oz. CaraPils (specialty grain)
8 oz. Crystal 20 (specialty grain)
6 lb. Muntons Extra Light DME
1 lb. Muntons Wheat DME
8 oz. Turbinado Sugar
1 oz. Simcoe (bittering @12.3 AA)
1 oz. Amarillo (flavor)
1 oz. Amarillo (aroma)
1 oz. Citra (aroma)
1 oz. Amarillo (dry hop)
1 oz. Citra (dry hop)
GigaYeast GY054 Vermont IPA Yeast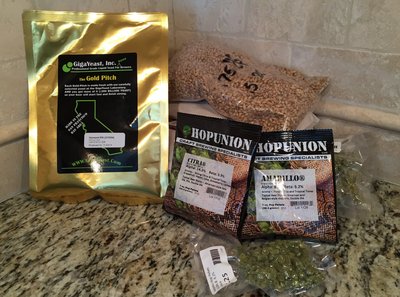 (Click to embiggen)
Several tweaks to the Fat Weekend IPA recipe are worth mentioning. First, the inclusion of wheat in the grain bill. Nothing fancy, just a pound of basic wheat DME (which is actually only 55% wheat). So this isn't going to be a white IPA or anything, but it will hopefully soften things up a little and provide a nice platform for the hops. Second, the hop schedule is tweaked a bit as well. Last year's brew turned out a bit too bitter, so I'm just sticking with 1 ounce of Simcoe this year. As with last year, Amarillo pulls flavoring duty and a blend of Amarillo and Citra will serve as the aroma and dry hop additions. I may actually grab some more hops for that dry hop addition, depending on what's available and when I can get to the shop…
Finally, the biggest change of all, the use of GigaYeast GY054 Vermont IPA Yeast. This is the infamous "Conan" strain of yeast that is used in Heady Topper (and seems similar to the yeast used by other Vermont heroes as well), and is finally available to homebrewers (albeit in limited, hard to find quantities). The general description sounds perfect. It's a mostly clean fermenting yeast that yields some slightly fruity, citrusy esters that are "amazing with aromatic hops" (like, hopefully, Amarillo and Citra). There are a few reasons I think Heady Topper enjoys the popularity it has, and one of the major ones is the yeast. The yeast costs a little more than your typical Wyeast smack pack, but it seems worth the stretch.
So the target here is an aromatic 8% ABV Double IPA. With attenuation in the 75-80% range, it won't be too thin, and with the adjustment to bittering hops, it shouldn't be too bitter. One of the things I've noticed from drinking so many Tired Hands IPAs is that they tend to be on the lower range of bitterness. Anecdotal observations indicate that their IPAs rarely exceed 60 IBUs (for reference, last year's IPA was somewhere on the order of 90-100 IBUs). This year's should be around 50 IBUs, which is actually a little lower than the style guidelines (which has a minimum of 60 for a DIPA). I'm hoping this will come out to be bright and citrusy rather than bitter and dank.
Original Gravity: 17.8 Bx, or 1.074 (exactly on target).
I have high hopes for this batch. It should be ready to drink right around the time my little break from beer ends, which is good timing. Up next, I'm thinking an easy drinking summer saison. Perhaps something of the more funky variety (I have some ideas about that, having learned from my previous attempt). All in good time. For now, I'm just trying to figure out what to call this batch. Going with the Conan theme, I was thinking Crom, but that might be too simplistic. "The Enigma of Steel" sounds like something Tired Hands would brew, a not entirely unwarranted comparison. Or perhaps I could combine the two and call it Crom: The Engima of Steel. But that sounds too ornate. This will bear some deep thought.
(Cross posted on Kaedrin Weblog)