A few years ago, Al's of Hampden was your typical PA pizza joint. For the uninitiated, Pizza is everywhere around here. I live in the suburbs, and I have about 4-5 pizza places within about half a mile radius of my house (and probably double or triple that if you make it a mile). Because of this, some places have to differentiate themselves and Al's of Hampden had glommed onto the whole Craft Beer revolution, featuring a bunch of takeout bottles* and taps. But as craft beer continued to explode, Al found that he had some trouble keeping his taps flowing, and rather than whine about it, he installed a brewhouse and started making his own beer to make up for the shortfall. It appears to be a small operation, allowing them to experiment with all sorts of weird stuff, including some barrel aging and sours and whatnot. Music to my earballs. The brewing operation is known as Pizza Boy brewing, and it's been steadily building up a good reputation amongst local beer nerds. Alas, they're located in Enola, PA (a 1-2 hour drive from Kaedrin HQ), and I've been far too lazy for far too long. Fortunately for my laziness, Pizza Boy has started to bottle some of their brews and even distribute them. I hope this is a sign of things to come, but for now, I was happy to snag one of these Red Rye IPAs made with Simcoe hops.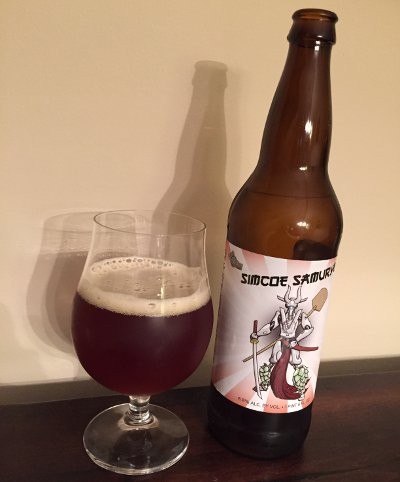 Pizza Boy Simcoe SamuRYE – Pours a very dark amber color, almost brown, with a finger of dense, off white head that has decent retention and leaves lots of lacing as I drink. Smells amazing, lots of Simcoe's characteristic citrus and pine merged very nicely with some sugary sweet malt aromas. Taste follows the nose, lots of citrus and pine hops, a little dank, some rye spiciness with a hefty malt backbone. Mouthfeel is very well carbonated, medium to full bodied, extremely well balanced. Overall, this is among the best rye IPAs I've had. On the upper end of B+
Beer Nerd Details: 6.8% ABV bottled (22 ounce bomber). Drank out of a tulip glass on 10/31/14.
So here's the plan. On some fine day, I'll need to take a road trip to visit some PA breweries, hitting Tröegs in Hershey first, then Al's/PizzaBoy, then Selin's Grove (a place I really need to check out at some point). Round trip, I'm figuring 6-7 hours though, so don't hold your breath. I don't think I'd even attempt this until next year, but it will happen someday. Oh yes. In the meantime, I'll just have to hope that some of Pizza Boy's more interesting experimental stuff makes their way down here…
* Again, for you non-PA residents, out fine commonwealth does not generally allow for beer distributors to sell by the bottle (only by the case). This is a fact that I've bemoaned many times before, but the good news is that there is a bit of a loophole in that restaurants are allowed to sell by the bottle, hence there are several places, like Al's, that have really stepped up their selection to serve the hungry market.