We all know that Three Floyds has a reputation for their hoppy beers (rightfully so), and while I wasn't particularly taken with Dark Lord, they seem to strike a chord on that dark beer front as well. Sours, on the other hand, seem less like their thing. Of course, not having had any, that is just blind speculation based on scattered ramblings of strangers on the internets, which is totally reliable enough for the purposes of this post.
Named after a French knight and military commander who was famous for his use of the Fabian strategy (basically a war of attrition, rather than direct confrontation) during the Hundred Years' War. Supposedly quite the badass and not at all a cheese-eating surrender monkey. Though I do suspect he actually did partake in cheese on occasion. The beer brewed in his honor is an American Wild Ale aged in old wine barrels with blueberries added. The last blueberry sour I tried had a slight case of the Smoketômes, so let's hope this one works out a little better: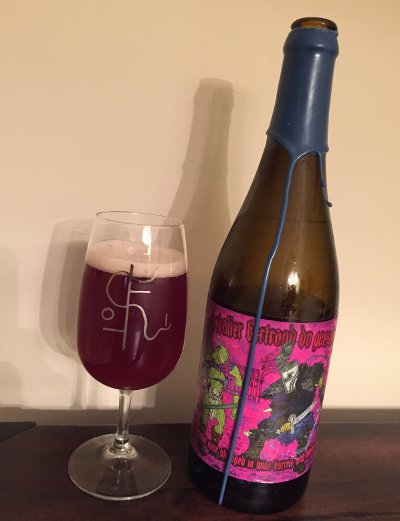 Three Floyds Chevalier Bertrand Du Guesclin – Pours a deep, dark amber with a sorta purple tint to it, and the finger or so of fluffy head has a similar reddish purple tint to it. It's actually quite pretty. Smells of tart fruit, blueberries, cherries, maybe even strawberry, a little oak and vanilla peeking through as well as some funk. The taste goes in for that tart fruit pretty hard, again with the blueberries and cherries, maybe some strawberry, a little oak and vanilla to set things off, and a puckering sourness throughout. Mouthfeel is well carbonated, medium bodied, slightly acidic, with a little stickiness in the finish. It never quite reaches fruit-by-the-foot levels of stickiness and the flavors never approach that sort of artificial sweetening, but it feels like a few missteps would have lead that way (this is a good thing). Overall, this is a pretty fabulous blueberry sour. A-
Beer Nerd Details: 6.4% ABV? (it's hard to find any info on the ABV) bottled (750 ml blue wax). Drank out of a flute glass on 10/25/14. 2014 Vintage.
This is the best of the beers (so far) I got from my FFF beer mule earlier this year, but now my FFF supply is running dangerously low. Only one more left, a stout. Look for that review soon enough (though it'll probably be a little while).