For 40 days or so, I pretty much gave up beer, mostly just to see if I could. There were a couple of preconceived exceptions to that, but for the most part I was busy expanding my horizons to bourbon, wine, tea, and the like. I really enjoyed all that and my pleasantly reduced waistline thanks me, but I have to say, nothing quite satisfies like beer. Not even a Snickers.
One of the things I missed most during my mini-hiatus from beer was trips to Tired Hands. This was exacerbated by the fact that they're absolutely tearing it up of late, and they've had plenty of newsworthy events in the past month, including the announcement of a new production facility and brewcafé ("we will soon have room for hundreds of oak barrels" – music to my earballs) and two, count 'em, two bottle releases. Of course, I attended these because I am a glutton for punishment, but when I finally got back into the beer drinking swerve, I knew I had something special to start with.
This is the third beer in the Emptiness series of barrel fermented saisons made with various fresh fruits from "rockstar farmer" Tom Culton (in this case, we've got Hachiya persimmons). So for my triumphant return to beer, I cracked a bottle of this stuff and experienced a Highlander-style quickening (fortunately, my electronics are hardened against such disturbances). I'm sad to say, the emptiness of this particular bottle will now be eternal: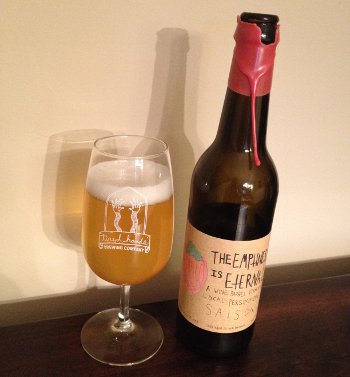 Tired Hands The Emptiness is Eternal – Pours a beautiful, hazy but radiant straw yellow color with a finger of white head. Smells of oak, fruit, berries, and funky, musty yeast. The taste is perfectly balanced between sweet, bright, and tart fruit, berries, oak, and finishing with a puckering sourness. Mouthfeel is well carbonated (perhaps the highest carbed Tired Hands beer I've ever had!) with medium bodied, a beautiful oak character, and a well matched dry acidity. It's crisp and refreshing, bright and damn near quaffable. This may well be Tired Hands' best sour since the superb Romulon, and is certainly playing with the big boys of farmhouse sours (Hill Farmstead, Sante Adairius, etc…) This beer is awesome, in the true sense of that word. A
Beer Nerd Details: 7% ABV bottled (500 ml waxed cap). Drank out of a flute glass on 4/18/14. 400 Bottle Release.
This will be a tough act to follow, but then, I said that about the last Emptiness series beer… So It Goes? We'll find out soon enough. In the meantime, I had some interesting Allagash stuff this weekend, and dipped into my cellar for another wale that we'll cover later this week. Stay tuned. In other news, I have to get my ass to Tired Hands sometime this week. Godspeed, uh, me.