This past Saturday, one of my favorite local beer bars celebrated its fourth anniversary. It's a tiny little place, but they had a rather spectacular tap list for the occasion, so I made my way over there, arriving just a little after opening. It was a total madhouse and took me a while to get anywhere close to the bar, so during this time, I reprioritized the order of desired beers, placing ones I've never had at the top of the list. Insanely crowded bars are not really my thing, and a friend I was going to meet was running way late, so we just called it quits and met up later in the day somewhere else.
That being said, I managed to snag a rare Allagash sour while I was there, and was really happy that I got to try this (there was a brewery-only bottle release not too long ago, but thankfully a keg made its way down here…) Avance is a strong sour aged on Strawberries in bourbon barrels for a whopping three years. Strawberry is not a particularly common fruit used with beer, so I was pretty stoked to try this out. Realizing that I've not been particularly attentive to Allagash's sour and wild beer program, I also cracked open some Midnight Brett that I had laying around; it's a dark wheat beer fermented with Brett. All in all, this was quite a nice Saturday!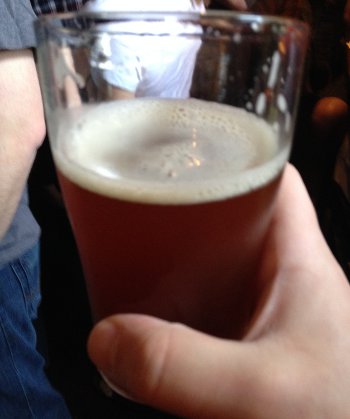 Allagash Avancé – Apologies for the craptacular picture, but I was lucky enough to be able to extend my hand that far in this place, which was pretty obscenely crowded. Nice bright orange brown color, with a finger of bubbly head and great retention. Smells of oak and fruit berries, with the strawberry actually coming through rather well. Big sour twang in the nose too. Taste hits with a massive wave of sourness up front, tempered by oak and jammy fruit in the middle, the strawberry character less here than the nose, but still present, then returning to an intense sourness in the finish. Mouthfeel is well carbed and very acidic. This is very intense, and reminds me of high ABV sours like Consecration or Riserva (and yep, now that I know this is 10.8% ABV, that makese a lot of sense. I thought the board said 8% when I ordered it, but it turns out that I neglected to notice the "10." ahead of it!) Really nice stuff, intense, oaky, delicious… perhaps just a hint too intense, but it's still great. A-
Beer Nerd Details: 10.8% ABV on tap. Drank out of a goblet on 4/19/14.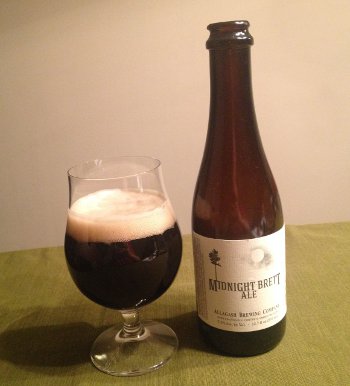 Allagash Midnight Brett – Pours a dark brown color with amber highlights and a couple fingers of tan head with great lacing and retention. Smells of musty, funky brett yeast along with a fruity, vinous aroma that suits it well. Taste has a very Belgian dark feel to it, dark malts but not a lot of roast, maybe some chocolate though, definitely spicy, fruity Belgian yeast that is offset by some earthy, musty, fruity funk. An almost chocolate covered cherry character that really suits this well. Mouthfeel is highly carbonated and effervescent, smooth, and almost creamy. A little bit of tartness and acidity, but very low on that scale. It's a very nice tweak on the Belgian dark style, and a very worthy beer. B+ but very close to an A-
Beer Nerd Details: 7.3% ABV bottled (375 ml caged and corked). Drank out of a tulip glass on 4/19/14. Date Bottled: Oct. 16, 2013.
So there you have it. I've never been supremely impressed with Allagash's wild beers before, but I also haven't had many of them. Both of these are significant improvements over something like Confluence, though of course, you'll have to pay for the privilege (Allagash is great, but their prices are on the high side).