My short yet Grand Detour (pun intended!) to the swanky world of wine continues with this well-regarded Sonoma Pinot Noir from a veteran producer. As mentioned yesterday, I know very little about wine, so to make this choice, I relied heavily on the fine folks over at PA Vine Company, who reviewed this a while back and clearly steered me in the right direction. Once again, please excuse the beer nerd simplifications I'm about to subject you to, I'm just not as familiar with this world as I am with some of the other detours I've been taking lately.
Pinot Noir is a red wine grape originally associated with the Burgundy region of France, though it's obviously caught on elsewhere, notably in northern California and the Willamette Valley in Oregon (also known to beer geeks everywhere as home to some of the finest hop farms in the country). By all accounts, Pinot Noir is a finnicky variety, thriving in cooler climates, but sensitive to wind and frost and vulnerable to several viticultural issues. Wikipedia has a great quote from a famous winemaker saying "God made Cabernet Sauvignon whereas the devil made Pinot noir." Well, to be fair, it seems that the devil knows his stuff, as Pinot Noir is very popular. While it is difficult to cultivate, it can yield some of the "finest wines in the world." I'm also told that it is highly reflective of its terroir, sometimes producing very different results depending on the geography and weather.
This particular bottle comes from the Sonoma Coast in northern California. It seems the proximity to the Pacific Ocean presents a favorable environment for Pinot Noir ripening. There website includes some notes on the fermentation process that made this beer dork raise his eyebrows:
All of the pinot noir grapes are hand-harvested into half ton bins and sorted in the vineyard. They are then re-sorted at the winery to ensure only the perfect clusters make it to the wine. The clusters are destemmed with 15% left whole cluster, which imparts a complex structure and spicy notes to the wine. The must is then cold soaked for five days in open top fermentators to enhance the color and flavors.
That last bit caught my eye, as it sounds like a spontaneous fermentation. Indeed, the label on the bottle sez that it is fermented "using only wild yeasts." To the beer nerd, this screams Brettanomyces, something I know winemakers consider an anethema (cue stories of winemakers refusing to visit the Russian River brewery for fear that hardy Brett beasties will attach themselves to clothing and hitch a ride back to the winery, where they can infect the wine with reckless abandon). Of course, that's not strictly the case, as it appears that some vinyards often try to cultivate more favorable wild yeasts, including "ambient Saccharomyces" and the like. I have actually wondered if there were any winemakers who dare to play with Brett. It seems that some beer brewers are able to tame it, but then, there is certainly a consistency issue with those beers.
This was another Chairman's Selection, and while I wouldn't consider it a cheap bottle (around $25), it certainly seems like a value when compared to the triple digit prices of Pinot Noirs from Burgundy. Still, given that I'm only really spending one week on this stuff, I figured it was worth a stretch. Let's see if it paid off: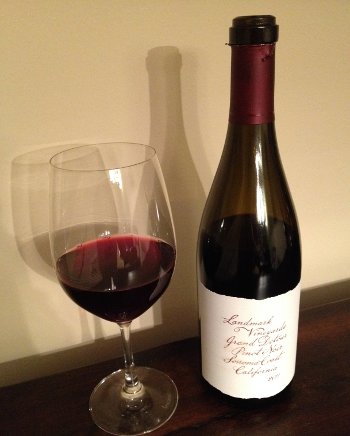 Landmark Vineyards Grand Detour Pinot Noir 2011 – Pours a deep, dark ruby color with beautiful highlights. Smells of bright fruits, strawberries, cherries, and (naturally) grapes, maybe even some oak and something earthy way down there. Taste has a nice sweet jammyness to it, bright fruit up front, again with the strawberries and cherries, that oak and vanilla emerging in the middle, with something earthy, like tobacco, towards the finish. Mouthfeel is medium bodied, a nice creamy richness, not super dry, a little pleasant acidity, and some welcome alcohol heat. Overall, this is one damn fine wine, really happy I splurged on a bottle. Again, giving a rating at this point seems rather unwise, but hey, let's say A-
Wine Nerd Details: 14.2% ABV bottled (750 ml corked, slightly higher than cellar temp). Drank out of a wine glass on 3/22/14. 2011 Vintage.
Food Pairing: I made one of my favorite winter dishes (a little late in the year, to be sure, but cut me some slack, it's still in the 30s this week), Beef Bourguignon. I tend to not follow that recipe exactly (for instance, usually less beef, more mushrooms, and a few other proportions are off), but you absolutely need to do the overnight marination step, and for this particular batch, I used a cheap bottle of Pinot Noir I had laying around (it was a 2012 Cartlidge & Brown). I even made a Vine of the process, if you want to watch some hot wine on beef action. The dish turned out very well and the Cartlidge & Brown worked well (this may not be the best batch I've made, but it is a damn sight better than that time I used a Coppola Malbec, which was clearly not up to the task, though it's not like it was inedible or anything). Anyway, it was a nice dish to pair with the Landmark Pinot Noir. 5 stars, would do again.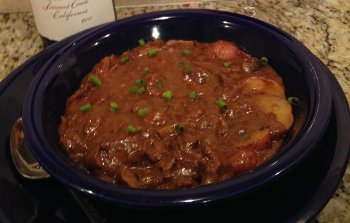 Beer Nerd Musings: While not the same thing, I sensed a very strong correlation with this Pinot Noir and oak-aged Flemish Reds. I kept thinking how this reminded me of various Rodenbach expressions (mostly the Grand Cru or Vintage versions, not so much with the Caractère Rouge), though obviously stuff like Red Poppy and Oude Tart are similar. I mused yesterday that sours might be a good entry point to good beer for wine lovers, and indeed, I think that the easily found Rodenbach Grand Cru would be an ideal choice for that purpose.
As you might expect, there's no shortage of beers aged in Pinot Noir barrels. Like with the Chardonnay barrels mentioned yesterday, these often skew sour. Notably, my favorite Russian River sour, Supplication, is aged in old Pinot Noir barrels (along with cherries). Well worth seeking out (and if you're looking for a pairing, it goes exceptionally well with BBQ brisket, ribs, and the like). To my mind, Pinot Noir seems to also work equally well for non-sour beers too. Deschutes likes to blend small proportions of Pinot Noir aged beer into The Abyss (a big RIS) and The Stoic. Local brewers from Dock Street used Chadds Ford Pinot Noir barrels for their barrel aged Barleywine and Imperial Stout, to great effect (they had a fantastic barrel character, but I should say that I wouldn't have picked them out as wine barrel aged).
So that just about wraps up the wine I'll be writing about, though there's still a few weeks left in my little detour from beer, and who knows where that will take me.