I don't know about casks 1-199, but I think Sante Adairius may have stumbled on to something with numero 200. In reality, they only have one of these (and you can see it in the background sometimes). It's a 660 gallon oval cask that they use in Solera-like fashion for a funky saison. Each time they package a portion of its contents, fresh beer is added back to Cask 200, thus mixing with the old beer and "learning" how to ferment and be like its aged brethren. As such, the average age of any packaged beer is going to be higher than previous bottlings and the finished product will vary from batch to batch. Unfortunately, I have no idea which batch I'm drinking here (I suspect batch #2), but that doesn't really matter because this is fantastic stuff.
Solera style beer production isn't particularly common here in the beer world, but in my limited experience (with, for example, The Bruery's Anniversary beers and Tired Hands' Darwin series), this is a unique way to approach it. Many thanks to Jay from the sadly now defunct Beer Samizdat blog for sending a bottle my way: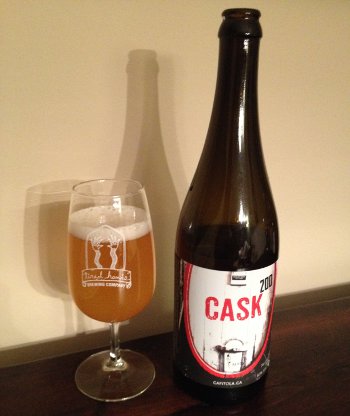 Sante Adairius Cask 200 – Pours a cloudy straw yellow color with a finger of white head and good retention. Smells amazing, hugely funky, lots of musty Brett, some fruity aromas, and a very nice oak character. Taste is sweet, tangy with that fruity Brett funk, vinous notes, a big tart sourness yielding quickly to that oak character, which lasts though the finish. Mouthfeel is well carbonated, crisp, and refreshing. Light bodied, with some acidity and tannins. Overall, this is another amazing beer from Sante Adairius. A
Beer Nerd Details: 6.5% ABV bottled (750 ml capped). Drank out of a flute glass on 2/1/14. Batch 2?
So Sante Adairius is 2 for 2 here at Kaedrin, with 2 solid A grade beers. It's almost enough to plan a trip to Capitola, CA and visit them first hand. At the very least, I'll have to make arrangements to secure more of their beer!