Maine Brewing (out of, well, let's just leave it at Maine) has never really blown me away, but I'm always intrigued to try a new brew from them. I haven't seen many lately, but on a recent excursion, I jumped at this sucker. It's a counterpart to Maine's Another One IPA; both beers use the same hop schedule (Warrior, Cascade, Citra, Simcoe), but while Another One has a very clean malt bill, the Weez here incorporates various dark and roasty malts (making this one of them American Black Ale thingies, or India Black Ales, or whatever you want to call them). An interesting idea, though I really wish I had the counterpart IPA to compare notes!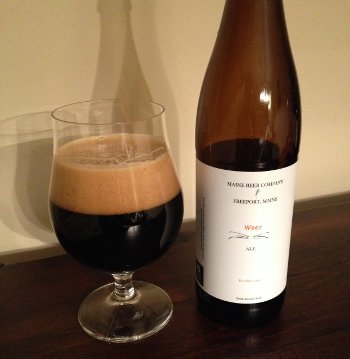 Maine Weez – Pours. Very dark, almost black, with a few fingers of light brown head and lots of lacing as I drink. Smell hits first with fruity citrus and pine hops, and then those dark malts kick in, bringing some toasty aromas to play. Taste has a muted feel, roast and those citrus and pine hops, followed by a dry, bitter finish. Mouthfeel is highly carbonated, but tight, with a lighter body than you might expect, and a fair amount of dryness too. Overall, this is decent stuff. B
Beer Nerd Details: 7.2% ABV bottled (500 ml capped). Drank out of a tulip glass on 2/1/14. Bottled 12/31/13 (there's also a "04" on the label, presumably a batch number?)
So there you have it. I will be on the lookout for Another One, amongst, well, other ones from Maine.