Back before Goose Island sold out to the great satan, AB Inbev, they took their already wonderful Bourbon County Brand Stout and started making some variants. Some, like the one incorporating coffee, appear every year. Others were one-offs that will probably never happen again. One such one-off was Bourbon County Rare, which used the same base as plain old BCBS, but aged it in 23 year old Pappy Van Winkle barrels (which are indeed quite rare) for 2 years. It seems that Pappy mania has extended from the bourbon world to also infect the beer world, as this beer initially sat on shelves (due to a high price tag) but is now a highly sought after rarity in the secondary market or trading boards.
After BCBS Rare, Goose Island took those barrels and deployed them for a third use, this time with a rather large barleywine. The result, dubbed King Henry, was also quite a hit amongst beer dorks. So much of a hit, that a couple years later, Goose Island has revisited the general concept of a barleywine aged in third use barrels (first use was bourbon, second use the straight up BCBS) and rebranded the package as Bourbon County Brand Barleywine. It's only been a few weeks and it's always wise to give people some time to work through the hype, but the general consensus seems to be that it's pretty great. DDB sez it's not as good as King Henry was, but it's better than King Henry is now. I've not had King Henry (either fresh or aged), but this seems like an intuitive result. So let's take a drip down Bourbon County way, shall we?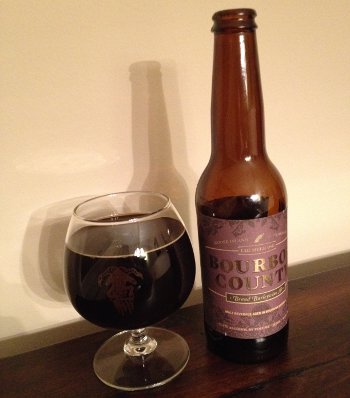 Goose Island Bourbon County Brand Barleywine – Pours a very dark brown color, maybe a hint of dark amber or crimson here, with just a cap of light head that quickly resolves to a ring around the edge of the glass. Smells heavily of bourbon and vanilla, oak, fruity malt and booze, maybe even something like brown sugar. Taste hits up front with a wallop of rich caramel, turning to fruity malts in the middle, along with a heaping helping of bourbon, oak, and vanilla. The finish has a pleasant note of booze to it, along with the return of that fruity malt. Mouthfeel is well carbonated, full bodied, rich, and chewy. Some booze, but nothing hot or unapproachable. Overall, this is exceptional. My face melted. A
Beer Nerd Details: 12.1% ABV bottled (12 oz. capped). Drank out of a snifter on 12/7/13. Bottled on: 17SEP13 0934.
I'm very happy that I have a fair amount of BCBS and variants left, as this stuff is truly spectacular. I even managed to get ahold of this year's Backyard Rye variant (aged in Rye Barrels with a bunch of berries), so be on the lookout for that at some point in the near future.