Once upon a time, Gueuzerie Tilquin made a believer out of me when it came to sour beers. Before Tilquin Oude Gueuze, I was like those scared apes at the beginning of 2001, cautiously approaching the sour beer monolith and giving it a tap every now and again. Throw a bottle in the air, smash cut to the space age, and now I'm rubbing vinegar on my gums in between sour beers just to keep things interesting.
Given the near impossibility of finding Cantillon and 3 Fonteinen on the shelf these days, it's amazing to me that Tilquin is out there for the taking. I almost don't want to speak so highly of them for fear that these wonderful beers will disappear forever. The thrill of the hunt is all well and good, but it can get old after a while. It's nice to pop over to State Line Liquors every now and again and see a "new" (I believe this came out last year) Tilquin beer like this one and just pick it up. But this is legit lambic, and I'd actually hold the Gueuze up above the standard Cantillon and 3 Fonteinen offerings (the non-standard ones, on the other hand, are another story, but that's still saying a lot). I originally graded the Gueuze an A-, but I've had it a couple times since then and I'd give it a firm upgrade to straight A territory.
This particular expression is a blend of 1 and 2 year old oak aged lambics that are then put in a stainless steel tank with "destoned fresh purple plums" for an additional 4 months (the sugars from the plums are fermented and mixed with the standard lambic). Color me intrigued: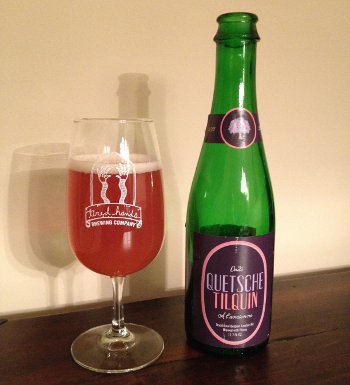 Oude Quetsche Tilquin à L'Ancienne – Pours a golden orange color with a sorta pinkish hue and a finger of white head. Smells deeply of funk and oak, earthy, fruity, with the sour twang tickling in the nose. Taste starts out sweet with tart fruit, some earthy character picking up in the middle along with a dollop of oak, followed by an intense sourness that charges through the finish. I don't know that I'd pick out plums here, but it's clearly fruited, and it's a very well balanced melding of the standard Tilquin with a more fruity character. Mouthfeel is highly carbonated and crisp, with some tannic oak, plenty of acidity and some puckering, especially towards the finish. Overall, this is fantastic. A
Beer Nerd Details: 6.4% ABV bottled (375 ml caged and corked). Drank out of a flute glass on 12/14/13. Best before: 29/01/2023.
So very good. The only Tilquin I've not yet had is the draft version, which is a slightly younger lambic with a lower ABV. I'll have to jump on that the next time I see it…