When you live in Pennsylvania, it feels like out-of-state liquor stores are magical. I'm not going to turn this into a rant about the PCLB; suffice to say, it sucks. Then I read about places like K&L Wine Merchants in California, and my brain explodes. They appear to have an excellent selection of wine, spirits, and beer (for the uninitiated, in PA, you can't sell Wine and Spirits in the same building as Beer, unless you're a bar), and what's more, they actually commission bottlings of various spirits and beers (I can't speak to wine, but I assume it goes on there too). And we're not talking piddly bottom-shelf blended Scotch (you know, the ones that taste like gasoline) either. One of their recent releases: a 1997 Laphroaig 16 Year Old K&L Exclusive Signatory Single Barrel Cask Strength Single Malt Whisky (the other one was a 21 year old Cambus, which is also an impressive get). Some readers of Kaedrin are drooling right now.
These K&L folks know their stuff, is what I'm saying. So it makes sense that they tapped Telegraph brewing for a special K&L exclusive beer. "I really gave Brian and the guys at Telegraph free run to do whatever it was that they thought would be interesting and delicious." See? Smart people. And the result was certainly interesting. Telegraph's Rhinoceros is a barleywine brewed with a hefty dose of rye (you might call it a "rye wine"), and for this bottling, they took that base beer, added Seville orange peels, and aged the whole concoction in a bourbon barrel. It's a single barrel bottling, so only 21 cases were produced (so we'll say somewhere on the order of 250 bottles). Special thanks to Jay from the (sadly now defunct) Beer Samizdat blog for snatching this up and slinging it cross-country to my liquor-store-challenged commonwealth.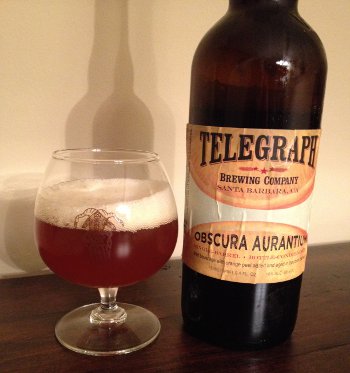 Telegraph Obscura Aurantium – Insert joke about Adamantium here (Aurantium is actually the scientific name for the Seville orange). Pours a very pretty Orange hued brown color with a couple fingers of bubbly, fizzy head that nevertheless manages to stick around for a while. Smells of rich, boozy bourbon, oak, vanilla, and yes, those oranges too. Taste is all spicy rye and bourbon, Belgian yeast spiciness hits in the middle too, followed by yet more booze. Mouth feel is highly carbonated and as a result this doesn't feel as heavy as a lot of big barrel aged beers. On the other hand, there's nothing to restrain the booze either, and it hits pretty hard here. A little burn and some definite warming in the belly. Not unapproachable and I rather enjoyed it, but yeah, it's boozy. I'm usually a little leery of non-wild Belgian styles aged in bourbon barrels. The highly attenuating yeast sometimes doesn't leave enough residual sugars to stand up to the bourbon barrel treatment (like this). Fortunately, this beer clears the bar. Yes, it's very boozy, but it's got enough going on that it works well. Overall a solid, interesting, complex brew. It grew on me as I drank it, too, but maybe that's the booze talking… B+
Beer Nerd Details: 10% ABV bottled (750 ml caged and corked). Drank out of a snifter on 10/11/13. Batch No. 124.
After the interesting failure of Obscura Cacao, I'm happy to get back on the Telegraph wagon and will happily seek out more of their stuff.