Just when you think you've got your head wrapped around the saison style, Dany Prignon drops a bomb like this on your face. No stupid memes necessary, just look at the damn stuff. Brewed with Green Tea (and Prignon's usual secret spices), it looks like friggin' Ecto Cooler, so strap on your proton packs. We've got some ghosts to drink: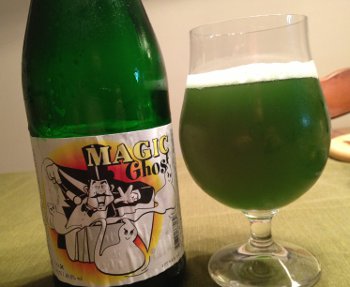 Fantôme Magic Ghost – Sweet merciful crap, look at that stuff. It looks like straight up ecto cooler. A vivid green color with a finger of, yep, very light green head. Calls to mind crappy St. Patricks day stunts, but this is anything but. Listen! Do you smell something? It actually smells utterly fantastic, great tangy funk (none of that smokey stuff that you see in recent regular Fantômes), some spice, and green tea – a surprisingly harmonious combination. Fortunately, the taste bears that out. The funky Brett character is perfect right now, slight fruity tartness, well balanced with traditional saison spice and sweetness, with that tea taking a bit of a back seat, but still present and harmonious. Lots of complexity, tea coming out a little more as it warms up. Mouthfeel is well carbonated, medium bodied, crisp, and a little on the dry side. Really pleasant to drink. Overall, this works shockingly well. Matching this sort of complexity with this sort of balance is difficult. I cannot believe this sucker, probably my favorite Fantôme since my first taste. A
Beer Nerd Details: 8% ABV bottled (750 ml capped and corked). Drank out of a tulip glass on 7/5/13. Lot no: b. Best before: February 2014.
I've heard that the color can vary on these, that some pour out an almost neon green, and some are darker or more of an olive green. I found mine to be more on the brighter side, not quite neon, but dark enough that I found it difficult to photograph (I took some pictures that were barely green at all). Anywho, Fantôme continues to blow my mind. Even when I don't particularly love something, it's always an interesting experience, and while some may poo-poo the inconsistency between batches, I find that to be part of their charm. Stay tuned, more Ghost reviews in the coming weeks.