So just what the hell is being depicted on the Golden Monkey label? Let's take a closer look: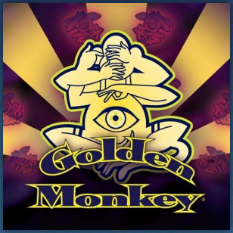 This label never made sense to me until someone told me that it was referencing the Three Wise Monkeys, a famous Japanese pictorial maxim that embodies the proverb "see no evil, hear no evil, speak no evil". And yeah, I can kinda see that. There's clearly a finger being jabbed into an ear (only one ear, but I'll go with it) and a hand over the eyes and mouth too. But then, why does this monkey have four arms and a gigantic eyeball protruding from it's belly?
Anywho, Golden Monkey is one of my old favorites, one of the brews that got me into "good" beer back in the day (near as I can tell, it remains a draw to "non-beer drinkers"). I haven't had one of these in, oh, say 2 or 3 years. Will it hold up to scrutiny, or have I grown beyond it? And will sticking it in old white wine barrels make it even better? There's only one way to find out, so I picked up a bottle of each, and drank them both last Friday. First up, the regular ol' Monkey: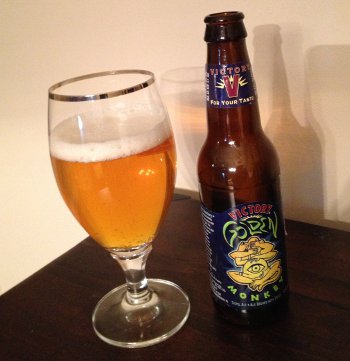 Victory Golden Monkey – Pours a bright, mostly clear golden color with a couple fingers of bubbly white head. Smells of bready Belgian yeast and lots of spice, particularly coriander and maybe some clove too. The taste starts of sweet and bready, with spice (coriander and clove) hitting in the middle, and a well matched bitterness lingers in the finish. Not bitter like an IPA or anything, but enough balance that this doesn't quite feel like a 9.5% beer… Mouthfeel is medium bodied and well carbonated, a slight slickness in the finish. No real booze notes, but it's easy to drink this fast enough that you get that warming sensation in your belly. Overall, this is a really solid, spiced take on the style. I probably would have rated this higher a couple years ago, but it's still a really nice beer. B+
Beer Nerd Details: 9.5% ABV bottled (12 oz.) Drank out of a goblet on 3/8/13. Bottle sez: Enjoy by Jan 9 2016
Victory White Monkey – Pours a slightly darker, clear golden color with a finger of bubbly white head. Smells similar, bread and spice, but with a nice white wine aspect. That wine character doesn't come through quite as strongly in the taste, but it's still there, and it's got a light buttery, vinous character to it. Mouthfeel is still medium bodied, but less carbonated, lending a more sticky mouthfeel to the brew than the base beer. Overall, a nice variant of a nice beer, though I don't know that it's any better than its base. After drinking the bottle, I found myself a little disappointed in this, but I guess it's an interesting change of pace and I'm glad I got to try some. I suspect it's just that I'm not much of a white wine guy, unless we start talking about sours… B
Beer Nerd Details: 9.5% ABV bottled (750 ml caged and corked). Drank out of a tulip glass on 3/8/13. Bottled on Feb 13 2013.
Well, I was hoping the Monkey would hold up to my original notions, and to be sure, it's a fine beer, but I'm just not as taken with it these days. And I'm just not that big a fan of white wine either, so perhaps the deck just wasn't stacked that well for me on Friday. Again, both fine beers, a gazillion times better than macro stuff, but a little underwhelming. Probably shouldn't have bought an extra, but hey, maybe some white wine fanatics would love this. This just about wraps up Victory's announced barrel aging efforts, of which the clear winner is Oak Horizontal. However, their new brewery comes on line soon, so I'm looking forward to some more experimentation, perhaps even the return of the most excellent Wild Devil (Hop Devil with Brett)…