Tilting at windmills1 over here, dipping into my cellar to pull out this Dutch imperial stout made with peated barley malts from Bruichladdich (one of them Islay Scotch distilleries2). Not exactly the sort of thing that inflames passions, but appealing from a quixotic point of view, I guess: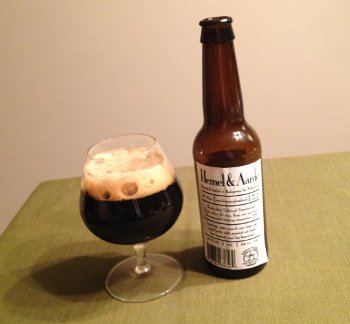 Brouwerij De Molen Hemel & Aarde – Pours a deep black color with a light brown, big bubbled head that leaves some lacing as I drink. Smells of peated malts as well as the more traditional roasted malt character. Taste also features that smoky peat character, but it's well balanced with a more traditional roasted malt character. Some chocolate and coffee are apparent, but that light peat smoke character is the big differentiator. Mouthfeel is full bodied, well carbonated, and relatively easy on the palate, especially given the strength. No real sign of the high alcohol here at all, well hidden. Overall, a solid, well balanced stout with a twist. B+
Beer Nerd Details: 10% ABV bottled (11.2 oz). Drank out of a snifter on 3/3/13.
Not quite the revelation of the peat dominated Rex Attitude, but a more interesting take on a smoked stout than Vampire Slayer. A nice opening gambit from De Molen, and I'm planning on tilting at their Hel & Verdoemenis next… looking forward to that one.
1 – "De Molen" means "The Mill" and is located inside a historic windmill called De Arkduif, and I'm sharpening my lances so that I may tilt at them (also tilting at my cellar, 'cause it needs some pruning).
2 – Bruichladdich was mothballed back in 1994, but reopened here in the 21st century. This superb New Yorker article, courtesy of the Beer Rover's little Twitter Feed, covers the whole ordeal in glorious detail and is well worth a read, no matter if you're a Scotch fan or not!