Another top 100 beer from Midwest ballers and abnormal label art masters, Three Floyds. Behind Zombie Dust and various barrel aged versions of Dark Lord that I'll probably never see, this DIPA is nevertheless well celebrated by beer nerds. Beer Advocate recently made some "controversial" changes to their ratings scheme, so I think this one fell down the ranks a bit, and we all know that the opinions of a bunch of strangers on the internet are usually dead on, so this is vexing. Still, being ranked 75th in the world is pretty sweet. Let's not waste any more time and get to it: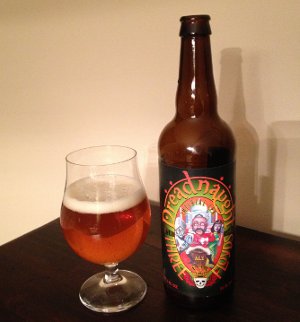 Three Floyds Dreadnaught IPA – Pours a clear golden color with a finger or two of white, fluffy head. Smells wonderful, sugary sweetness with tons of citrus and pine. Taste starts off sweet, very light crystal malt character, but then the mango and grapefruit emerge quickly and continue into the finish, along with some floral and pine notes. It finishes with a nice bracing bitterness, which is impressive considering the high ABV. As it warms, the floral notes open up and become more prominent in both the nose and taste. Mouthfeel is medium bodied, well carbonated, crisp and clean, maybe just the slightest hints of stickiness, but again, this is pretty good for such a big beer. Overall, this is a fantastic beer. A-
Beer Nerd Details: 9.5% ABV bottled (22 oz. bomber). Drank out of a tulip glass on 12/29/12.
I would put this about on par with Double Jack and Gemeni. It's maybe slightly beefier in terms of malts than Double Jack, but perhaps not quite as much as Gemeni. I don't know the hop schedule of this one, but I suspect there's some of that cascade/simcoe and centennial going on, wither perhaps a few others, which I believe puts it right in the same playing field. But I'll tell you one thing, Dreadnaught tastes a whole lot harder to get than those two. That being said, I may need to start trading with more Midwesterners, just to keep up a supply of Three Floyds stuff, which has been uniformly impressive.