La Trappe always seems like a lesser Trappist due to the fact that they're the only one not located in Belgium. On the other hand, they seem to be the only Trappist that does much in the way of creative new beers. Not that there's anything wrong with that. Breweries like Chimay and Westmalle trace their recipes back to the 19th and early 20th century, originating and codifying some of the styles we know and love today, like dubbels and tripels. La Trappe, on the other hand, coined the nebulous style Quadrupel way back… in the 1990s. And they're still going. Both of today's beers were first released within the past couple years (though one is simply an old beer that was barrel aged).
Alas, since I have no pre-bankruptcy Hostess snacks to pair these with, I had to settle for my normal pairing of beers with movies. In this case, since we have two very different beers, one relatively light (but not super pale), one relatively big and dark, I went with the cinematic whiplash pairing of ParaNorman and A Separation. I can't say as though I recommend the pairing, but each movie was pretty good in its own right, especially A Separation, which I found a little languid at the start, but slowly and deceptively turned into a captivating movie. I felt sorta like the frog placed in cold water that was slowly heated to boiling, cooking me alive in the process. Or something. What was I talking about? Oh yeah, beer: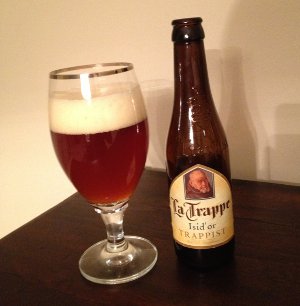 Koningshoeven La Trappe Isid'or – When I first saw this, I thought it was a Lord of the Rings tie-in (Yeah, yeah, not the same spelling, so sue me in nerd court. I'll totally go free because of the Irony defense.) But no, this was brewed to celebrate the 125th anniversary of La Trappe, and is named after their first brewer, Brother Isidorus. It pours a hazy light brownish orange amber color with tons of fluffy white head. Smells of fruity, spicy Belgian yeast, one of them bananas and clove affairs. Taste is sweet and spicy, again with the lighter fruits and lots of Belgian yeast spice, more malt character than you typically get out of a Belgian pale, but it's not a dubbel or anything. It's actually a hard beer to classify, which isn't to surprising whenever you're talking about Belgian beers, but it's very fruity and doesn't really fit in with the usual pales, nor is it particularly dark. Somewhere inbetween. Mouthfeel is well carbonated, medium bodied, spicy, relatively dry, all in good proportions. Overall, a very well crafted Belgian ale. B+
Beer Nerd Details: 7.5% ABV bottled (11.2 oz) Drank out of a goblet on 12/30/12.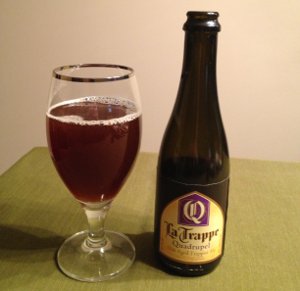 Koningshoeven La Trappe Quadrupel Barrique (Oak Aged) – Batch #7 – I previously had batch #3 of the oak aged Quadrupel and really enjoyed it. That one was aged in a mixture of new oak, old Port wine barrels, and previously used quadrupel barrels, and it was all a pretty great match with the beer style. This time around, we've got a batch that was aged in old Scotch barrels. The distilleries in question (Bowmore, Tamdhu, Strathspey and Laphroaig) seem to be a mix of Speyside and Islay, which can be troubling. In particular, I've found that beers aged in old Islay Scotch barrels are a bit challenging in that the peaty, smoky flavors really tend to overpower the beer. Now don't get me wrong, I love me some Islay Scotch (Ardbeg 10 is a standard at my house, and their Uigeadail is a recent acquisition that I'm sure will find a place in the rotation), but mixing those strong flavors with a beer that is as highly attenuated as this seems to be a lot trickier than, say, mixing stouts with bourbon. I thought perhaps the Speysides would calm things down a bit, and indeed, this isn't the worst attempt at an Islay barrel aged beer, but it's not particularly special either.
Pours a dark brown color with some orangey amber highlights and almost no head, just a ring of bubbly stuff around the edge of the glass. The smell is mostly Scotch, lots of peat, some smoke, and some of that base Quadrupel spiciness and fruitiness, though the Scotch character is clearly the star here. Taste is all Scotch, lots of peat, but that smokey, medicinal character comes out a lot more here and overpowers things. Mouthfeel is much less carbonated than the usual quad, making this feel a little gloopy. Overall, this is a lot less balanced than the regular Quadrupel or even Batch #3, and the flavors just aren't meshing well. As it warms up, things even out a bit, and like I said, I like me some Islay Scotch, but it's still not working that well. C+
Beer Nerd Details: 10% ABV bottled (375 ml caged and corked). Drank out of a goblet on 12/30/12.
It looks like Batch #7 is the odd man out, a misfire in a series of otherwise pretty well received oak aged beers. Batch #8 is supposed to also use Scotch barrels, but they blended that with new oak, which I think could really help tone down some of that peaty, smokey flavor (the reviews on RateBeer and Beer Advocate seem to bear that out). Batches 9 through 11 were aged in old Malbec barrels, and batch 12 used old Bourbon and Cognac barrels. So yeah, pretty much every batch of this sounds great, but avoid #7.