I wasn't originally planning on drinking a bunch of smoked beers last week, but you never know what you're going to get from Brasserie Fantôme, and when I cracked this one open and realized that it featured smoked malts, I figured I'd just go with it. What can I say, it was a smokey weekend.
Fantôme was never easy to find, but it's even more difficult these days, so when I saw this La Dalmatienne, I pounced. Background information is sparse, but it appears to be one of Fantôme's trademark funky, almost sour saisons, but with a touch of smoked malt, just to further confuse the saison style definition. There's also another version La Dalmatienne that has a black label with white spots, but I'm reliably informed that the one I had was the better version. What dalmatians have to do with any of this is anyone's guess (they ride on fire trucks, smoke comes from fire, ipso facto a smoked beer?), but let's strap on our proton packs and hunt some ghosts anyway: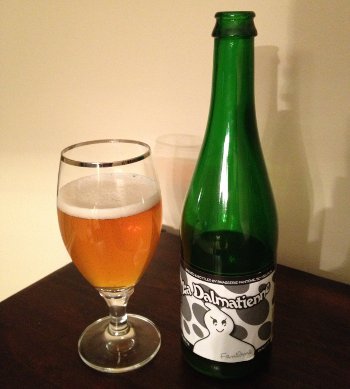 Fantôme La Dalmatienne – Pours a bright, mostly clear golden yellow color with a couple fingers of white head. Smells funky with some more traditional saison spice lurking in the background, and a rather prominent (but not overpowering) smoky aroma. The taste is lemony sweet, a very light fruity tartness, some funk, and that smoke from the nose. That smoke is the odd man out, though not in an unpleasant way. Mouthfeel is well carbonated, crisp, and lightly acidic, making it a sorta bright brew. Overall, an interesting brew, that smoke could have been a disaster, but I think they pulled it off. B+
Beer Nerd Details: 8% ABV bottled (750 ml capped and corked). Drank out of a tulip glass on 1/19/13.
I need to find me a regular hookup on Fantôme beers. They were never plentiful around here, but they seem to have gone the way of the loon in recent times. Anywho, after I had this beer, I threw caution to the wind and embraced the smoked beer theme that had been developing, which lead to tomorrow night's beer, a puntastic New Zealand entry that sounded like it would be a disaster, but was actually amazing.