In the rough and tumble world of beer blogging, it's easy to become jaded. That's why it's sometimes good to throw caution to the wind and take a flier on something obscure, like this fanciful New Zealand brewing duo who have a punnily named brewery and take some ridiculous chances with their beer. Case in point: Rex Attitude, a beer with an absurdly simple recipe. No fancy specialty grains here, just a single golden malt (ok, I'm being a bit facetious here, but we'll get to that in a moment). No trendy hop blends, just 31 IBUs driven by the mild character of Willamette hops. No estery, phenol driven Belgian yeast monsters, just a clean fermenting US yeast.
The thing that makes this beer so interesting is that that single golden malt also happens to be smoked. And not just any smoke: peat smoke. Scotch fans just raised an eyebrow. Most smoked beers burn traditional wood to get that smokey flavor – stuff like beechwood, hickory, ash, maple, and, uh, vampire stakes. But historically, you used what you had, and Scottish folks had lots of peat moss. So that's what they use to smoke their malt. These days, that malt is mostly used in service of Scotch Whisky (I'm unclear as to whether or not Scottish breweries used to use peat moss to dry their malt back in the day, but Scotch ales don't usually feature peat smoked malt).
So these wacky Kiwis took that heavily-peated Scottish distillers malt and made their beer with it. And thanks to the simplicity of the rest of the recipe (mild hops, clean yeast), that peat smoked malt is the true star here. This is an absolutely ludicrous idea and I expected disastrous results. But that's just this jaded blogger being a goober, because this thing is a real eye opener. I cannot believe they got this to work as well as it does, and it's nice to know that after years of obsessing about beer, I can still be blind-sided by something this surprising: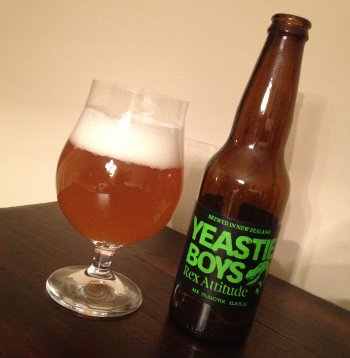 Yeastie Boys Rex Attitude – Pours a cloudy golden color with a couple fingers of billowy, fluffy head and tons of lacing. Smells of smokey, peated malts and not much else… but it works shockingly well. I could sniff this all night. It's like the nose from peated Scotch (think Islay), but it won't singe your nose hairs. The taste has a nice sweetness to it, well balanced against the smoke, which is ever-present, but not at all overbearing. Indeed, it's extremely well balanced and quite tasty. And we haven't even gotten to the best part, which is the mouthfeel. Highly carbonated and relatively dry, reminiscent of the feel you get from a well attenuated Belgian yeast, but without the fruity or spicy notes. Medium bodied, but this thing drinks like a champ. It's like drinking an Islay Scotch, but without any of that burning booze. Probably not for anyone, but I'm a bit of a peat freak, so this beer pushed the right buttons for me. Overall, this beer has no business drinking this well, one of the most unique and interesting experiments I've had in a while. A-
Beer Nerd Details: 7% ABV bottled (11.2 oz). Drank out of a tulip glass on 1/19/13.
There's a doubled up version of this very beer called XeRRex that is supposedly just as audacious and successful, despite being a 10% monster. I must find that beer. In the meantime, I'll have to hit up my local bottle shop for their Pot Kettle Black (which they call a hoppy porter, otherwise known as Black IPA). Yeastie Boys came to my attention by way of Stephen Beaumont, and I'm glad I caught that post. Yeasty Boys is a contract brewing operation, but Stephen notes: "in New Zealand, where a small population base is stretched across a long and isolated land mass, or rather, masses, that is a status without the perception issues that tend to dog it still in North America and parts of Europe. Indeed, contract craft brewing seems at times almost the Kiwi norm rather than the exception." So this is the only one of their beers I've had, but if it's any indication, these guys are worth seeking out. And thus ends Smoked Beer week. I hope you had fun, I know I did. Now if you'll excuse me, I've got a fresh box of West Coast beer to scarf down this weekend. Stay tuned.