Lately, it seems like all of Dogfish Head's beers have gone off the deep end. I know they're fond of "off-centered" stuff and strange ingredients, but a lot of that stuff doesn't seem to pique my interest. I guess it's interesting that someone is making beer with "an ancient form of wheat and loaves of hearth-baked bread, and it's flavored with chamomile, doum-palm fruit and Middle Eastern herbs", but I dunno, that's just not revving my engine. Maybe I'm just a man of simple tastes. I tend to prefer Dogfish Head's more normal takes on standard styles, like IPAs (made with far out ingredients like… hops!) and stouts. This barleywine offering straddles the line a bit, but it at least sounds like it's beer.
It starts off as a rather big 13% barlewine, which is then dosed with dates and figs, bringing the final result up to around 15% ABV. And apparently the date/fig addition actually has some sort of historical basis in that the cellarman in Ye Olde English pubs would attempt to revive a flat cask beer by adding crushed up dates and figs to the vessel. The addition of sugars would revive the yeast, add carbonation, and freshen up the beer a bit. I don't know how historically accurate this practice really is and I don't want Martyn Cornell to cross the pond and break my legs for promulgating beer myths, so I'll just say that I'm assuming some liberties were taken with the story. Still, a barleywine fermented with dates and figs fulfills Dogfish Head's "off-centered" mission whilst still being something that sounds like beer. In other words, I bought one and drank it: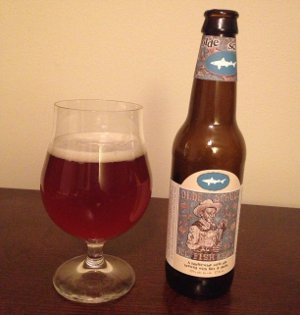 Dogfish Head Olde School Barleywine – Pours a dark orange color with a finger of white head that fades quickly, but leaves a ring of head around the glass for quite a while. Aroma is filled with figs, sweetness, and maybe some piney, citrusy hops. Taste is quite complex. Lots of crystal malt up front, with some resinous hops coming out in the middle, and that figgy goodness hitting in the finish and asserting itself through the aftertaste. Booze hits in the finish too, but nothing overwhelming. Mouthfeel is full bodied, thick, and boozy, plenty of carbonation, but not something you want to gulp down. A real sipping beer. Overall, it's a solid, complex barleywine with some interesting and uncommon notes. I'm quite enjoying it and would be curious to see how it ages, despite its relatively light color. Regardless, if you like figs, you should really check this out. B+
Beer Nerd Details: 15% ABV bottled (12 oz.) Drank out of a tulip glass on 12/8/12. Bottled in 2012B.
Label sez: "Directions: Open bottle, pour contents into two snifters. Enjoy. Or: Walk hand-in-neck into the middle of the woods. Use a shovel to dig a 2×2 hole three feet deep. Seal the bottle in a plastic bag. Place in hole & pack with dirt. Memorize location & leave. Return exactly one year later. Dig up bottle, open & enjoy."
I suppose that's a romantic notion. I have another bottle of this stuff, but I think I'll just let it sit in my cellar for a while, along with some 120 Minute and World Wide Stout. Maybe I'll crack another one of those in a year or two.