Are there Canadian breweries outside of Quebec? Because every time I get my hands on some fine, craft brewed Canadian beer, it winds up being from some small French Canadian brewery. Not that I'm complaining. I've pretty much loved everything I've ever had from the likes of Unibroue and Dieu Du Ciel, though I admit that I must delve a bit deeper into their respective catalogs. So when these Hopfenstark beers started showing up locally, I figured I'd give them a shot.
Historically, Captain Swing was apparently a fictional nom de plume signed to threatening letters during 1830s riots when laborers were losing their jobs to industrial threshing machines. Captain Swing was a sorta mythical figurehead to the movement. Why this would matter to French Canadians is anyone's guess, but I'll admit, it's a pretty cool name. Does the beer live up to this reputation?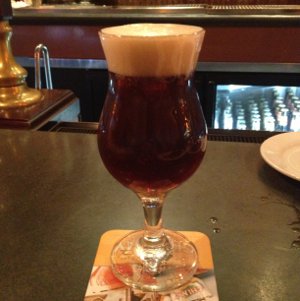 Hopfenstark Captain Swing – Pours a clear, deep copper color with a couple fingers of tan head. Smells of caramel with a slight floral, piney hop character. Taste features lots of that caramel malt flavor, along with just a bit of piney hops, leading to a nicely balanced bitterness towards the finish. No real fruitiness apparent at all, which is a little surprising. Mouthfeel is rich and creamy, with tight carbonation giving way to a very slight slickness in the finish. Overall, this is very nice, if a little straightforward… It's labeled as an American Barleywine, but this feels more like an Imperial Red than a barleywine. Regardless, it was solid, and I enjoyed drinking it, so call it whatever you want. I'll give it a B+ and leave it at that.
Beer Nerd Details: 9% ABV on tap. Drank out of a tulip glass on 10/7/12.
A favorable first experience with Hopfenstark, a brewery that I'll probably seek out again at some point. Though, in general, I'd like to try out some more crafty Canadian beers.