The concept of a "Stock Ale" is somewhat nebulous and laden with cultural and historical notions of brewing beer. Now, we're not talking saison-sized incomprehensibility, but it's not a very common style and the historical idiosyncrasies add complications. The term is often used interchangeably with "Old Ale" or even just "Strong Ale", and it is true that, historically, they are all somewhat related1. As you might guess, the distinguishing characteristics for such beers are also complicated and vague, but as luck would have it, I've already written about Old Ales before:
They're generally pretty high in starting gravity and relatively low in IBUs (sorta like an English Barleywine or a Scotch Ale), but they display a lower degree of apparent attenuation (meaning that there still a lot of residual sugars (dextrin) in the finished product). As the style name implies, these beers are also aged for a long period of time before distribution. This aging develops some interesting flavors along the lines of a lightly acidic, fruity malt character.
Now, the distinction between an Old Ale and a Stock Ale is that the latter, while featuring the same characteristics as the former, was not intended for direct consumption. Instead, brewers would blend the Stock Ale with young beer to establish that distinctive flavor base (you know, like chicken stock, but with beer!) This was particularly useful before the advent of refrigeration. Brewing during the summer was problematic at best, and usually resulted in infected or otherwise tainted beer. However, the cleverest among brewers figured out that freshly brewed summer beer could be "hardened" or "brought forward" by mixing it with older stocks of winter-brewed beer. If those old stocks survived the summer, they were then sold as Old Ale that next winter.
The advent of lager beer and modern refrigeration (among other unimportant things, like Prohibition and World Wars) has obviously decreased the need for "stock", but there are still a fair amount of old ales being made these days, and plenty of breweries still experiment with mixing aged and fresh beer2. North Coast makes one of the most popular current incarnations of old ales, called Old Stock Ale. What I drank last week was a Bourbon Barrel aged version of that beer, which is given the subtitle "Cellar Reserve" and fancily packaged in a beautiful, distinctive bottle, thus allowing them to charge through the nose for the stuff. And like a sucker, I paid through the nose, because I just can't resist stuff like this. It being beer that was originally made 3 years ago, I think I can let that slide a bit.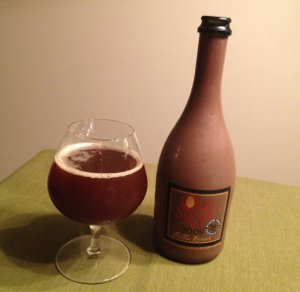 North Coast Old Stock Cellar Reserve 2009 – Pours a murky, muddy brown color with half a finger of quickly fading, big bubbled head. Huge Bourbon and oak notes in the nose; also caramel, toffee, vanilla, and even a little fruitiness. Taste follows the nose, lots of caramel and toffee with some dark fruity notes and a whole boatload of rich Bourbon and oak character. Lots of hot booze too, though I find that it's pretty well integrated with the rest of the brew. Mouthfeel is surprisingly well carbonated. Not effervescent or fizzy or anything, but ample carbonation that helps temper some of that rich, chewy nature (not that I don't like rich, chewy beers, this is just an interesting twist on the style). Full bodied and complex, with some alcohol warming going on. It's a sipper, but I mean that in the best way possible. Overall, this is an excellent beer. I don't know that it's worth the price tag (you can probably find something similar for half the price), but I'm really happy that I got to try it. It's something I might even seek out again, price be damned! A-
Beer Nerd Details: 13.16% ABV bottled (500 ml). Drank out of a snifter on 10/06/12. 2009 vintage.
I've already got me some of North Coast's Old Rasputin XIV, their most excellent Imperial Stout aged in bourbon barrels. That's another beer pretty much guaranteed to be drunk in the next couple months. These things certainly are pricey, but the beers are pretty darn good too.
1 – I should note that a key source for a lot of this history is Ray Daniels' book, Designing Great Beers. He's got a chapter dedicated to sussing out the distinctions and characteristics of this vague style, and he's clearly much more knowledgeable on the subject than I am, so if this rinky dink blog post interests you enough that you actually want to brew the stuff (and if you're an advanced homebrewer – the book was a bit too much for my amateur operation), he's got you covered.
2 – The example of blending experimentation in old ales that comes to mind is The Bruery's Anniversary Ales series (i.e. Papier, Coton, Cuir, Fruet), which represent blends of new beer with last year's anniversary ale. This is technically referred to as the solera method, but I'll leave that pedantry for it's own post someday (I should really get around to drinking/reviewing those bottles of Bruery Anniversary beer). I suppose I should also note that even traditional blending is still alive and well, one example being those wacky Rodenbach fellows.