When barrel-aged Stillwater brews started showing up around here, I was a little slow to catch on and thus missed out on some of this guy's prized brews. Fortunately, I've been in the process of rectifying that, starting with this beer, a saison brewed with whole juniper bushes and a touch of smoked malt, fermented with Brettanomyces, and aged in Brunello (Italian red wine) barrels.
Now, in general, I tend to see red wine barrels used to age darker beers. Think Supplication, Consecration, Black Hole (in my cellar, will be cracking open this fall), or the recently announced Red Thunder. Brown ales, stouts, porters. And while I'm not a wine expert, this pairing makes a certain sort of sense. Red wine goes with dark beer, white wine goes with lighter colored beers. Maybe I'm just tragically ignorant in my assumptions here, but hey, I'm a big tent kinda guy, so let's get this debauchery started: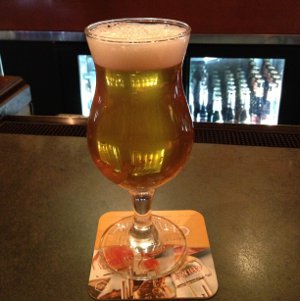 Stillwater Brunello Barrel Aged Debauched – Pours a clear yellowish color, maybe some light orange tints too, and a finger of white head. Smells funky, with a bit of sour twang, some vinous character, and maybe some yeasty spice. Taste is sweet, lots of tangy vinous notes, some funky Brett and spicy yeast coming out… Not really sour, but plenty of acidity and grape-like tartness… Mouthfeel is light and crisp, with a burst of carbonation that fades quickly into a more wine-like finish. I'm not entirely sure how much I love that finish, actually, though it's certainly an uncommon mouthfeel. Interesting beer, really glad I tried it, but it's not something that really blew me away. I'll call it like I see it and give it a B, but it was interesting enough that I'd like to try it again sometime.
Beer Nerd Details: 6.7% ABV on tap. Drank out of a tulip glass on 10/7/12.
Despite not being blown away by this, I'm still looking forward to exploring more of the Stillwater catalog (of which I've only really scratched the surface), including a bottle of bourbon-barrel aged Folklore that I was able to snag recently. Quite excited about that one, actually, so expect a review in a few weeks or so.