Back in 2003, the beer brewing trio of Sam Caligone (of Dogfish Head fame), Bill Covaleski (of Victory Brewing fame) and Greg Koch (of Stone Brewing fame), got together and formed some crazy organization called BUFF, which stands for Brewers United for Freedom of Flavor. It sounded like PR fluff, and naturally, nearly no one showed up to their press release. So Brewdog these guys are not, but that's part of their charm! Back in 2010, they finally realized that they could garner some attention for BUFF by brewing a collaboration beer. So they developed a saison recipe that was spiced with parsley, sage, rosemary and thyme (I see what they did there), each went back to their respective breweries, and made up a batch.
During that initial release, I managed to get my hands on Victory and Dogfish Head versions of the beer, but I missed out on the Stone version. Such is the way of collaboration beers, and I thought this would have been lost to the annals of time, but lo and behold, Victory, Stone, and Dogfish Head rebrewed the same beer this year. Score. I've had a couple of the Victory brewed batch (in non-notes-taking social mode, sorry!) this year, but I also managed to find the Stone version to complete the trifecta. Kinda. I mean, I'm trying them over two years, so I'm sure some nerds think that doesn't count, but who can ever satisfy those people? They all tasted pretty comparable to me.
On the other hand, despite the fact that they're ostensibly using the same recipes, the Stone version clocks in at 7.7% ABV, while both the Victory and Dogfish Head beers are a mere 6.8%. As such, I'd expect this to be significantly dryer than than the other versions, but it still felt comparable. In short, they're all good, and despite the suspicious difference here, this one is no exception: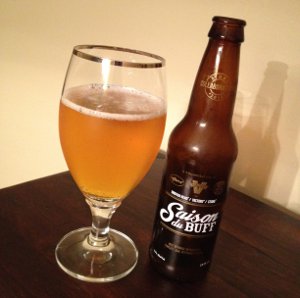 Stone Saison du Buff – Pours a light golden yellow color with a finger of white head. Smells strongly of aromatic herbs and spices, partly from the actual spicing, but also from the yeast. The taste starts sweet, with those herbs and spices coming into play again, drying out a bit in the finish, which also has a slight bitter note. Mouthfeel is well carbonated, medium bodied, a little spicy bite. Overall, a solid, interesting take on the saison. It's distinct from the other varieties I've had, but just as good. B+
Beer Nerd Details: 7.7% ABV bottled (12 oz.) Drank out of a goblet on 9/1/12.
I think this may be the first time I've ever seen a craft beer collaboration beer brewed again (unless you count Mikkeller, but I don't think that counts due to his Gypsy ways), so perhaps they'll do it again, and I can save up three bottles and try them next to one another and see the differences close up. Could be interesting…
In other news, my server has apparently been acting up lately, so things have been a little futzy of late. All is well right now, but apparently my hosting service is replacing hardware and whatnot, so there may be some more downtime later this week. I actually wrote this entry last night, but couldn't publish until now. I'm actually doing pretty well with the backlog of reviews at this point – I only drank this, like, a week and a half ago. Score.