So I don't normally resort to press release bloggery, but this one interests me:
Victory Brewing Company is known for melding traditional styles and unique concepts to produce the highest quality, full flavored beers. Red Thunder does just that. By aging their popular Baltic Thunder in once-used red wine barrels from Wente Vineyards, Victory Brewing Company created Red Thunder. The burnished cocoa creaminess of the Baltic-style porter is accented by the tannic dryness of the wood to produce a rich, fruity final product.
Yessss. It looks like this one will be taking the pre-Thanksgiving release-day slot that was previously owned by Dark Intrigue. That became known as "Dark Wednesday", so I don't know what this will be… "Red Wednesday" or "Wednesday Thunder" or perhaps just "Cattle Call". In all seriousness, I don't know that I'll be attending. They say the beer will get a limited distribution in the Northeast (and, uh, Illinois), so I'm sure I'll be able to get my hands on a few bottles in any case (at least, if other Victory rarities are any indication). But who knows. I think I've already established that I'm a weak, weak man when it comes to stuff like this.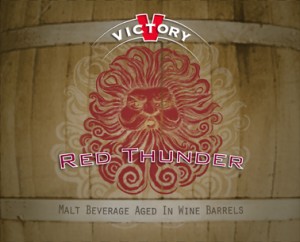 Anywho, kudos to Victory for actually announcing this, rather than just letting a few of them slip into distribution without telling anyone the way they did with Otto in Oak (though I managed to pick up a few extras of that, thankfully). I'm not all that familiar with red wine barrel aging (at least, with respect to non-sour beer, and this one doesn't sound like it would be swimming with wild bacteria or anything), so I'm really curious to see how this turns out.