My flirtation with sour beers continues unabated. I haven't quite reached the sad level where I'm so addicted to acetic flavors that I'm rubbing vinegar on my gums in my spare time, but I like to think that I've gained something of an appreciation for well crafted sour beers. Most recently, I've been blown away by the likes of Rodenbach Grand Cru, Russian River Supplication (a beer I'd had before, but which really blew me away upon revisiting), and Marrón Acidifié. That being said, I still find sours to be a bit of a mixed bag for me… I'm guessing that as time goes on, I will gain even more affinity for the various sour styles, but for now, I'm still stuck in that experimental stage.
Hanssens seems to have a reasonably good reputation, though I get the impression from reading folks like Beerbecue that they tend towards the sweeter, more puckering, acidic side of things. Let's see how this Oude Kriek (beer with cherries that's spontaneously fermented and "matured for over three years") fares: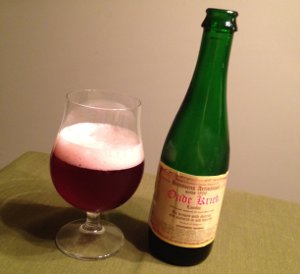 Hanssens Oude Kriek – Pours a bright red color with a couple fingers of pink head. The smell features that trademark sour twang, some earthy funk, and maybe some of that oak character. The taste starts very sweet and very sour, lots of fruitiness (cherries, obviously) and funk, mellowing out a little as the taste evolves. Mouthfeel is well carbonated but appropriate. The sourness packs an acidic, funky punch; it's certainly an eye opener. Overall, a solid beer, but not something that transcends my typical thoughts on kriek beers (certainly better than the easily found Lindemans Kriek, but that's not saying much)… B
Beer Nerd Details: 6% ABV bottled (375 ml caged and corked). Drank out of a tulip glass on 8/31/12. Label sez: Lot nr: G.
Can't say as though I'm all fired up to try more Hanssens beers, but this was certainly a cromulent entry in the sour experiment. Still, I'd rather seek out some of the better regarded Belgian sours (or even american Maestros like the folks up at Cascade, if I can ever get a line on those).