Last year, I did a double feature of Mikkeller's I Beat yoU and Brewdog's Hardcore IPA. One of the great things about doing double features of styles like the IPA is that you can get a good feel for the diversity of flavor within the confines of a style that can sometimes seem… samey. This usually works out, but for the Mikkeller/Brewdog session, I did find that both beers had very similar profiles. I enjoyed both though, so when I heard about this collaboration where they essentially just blended the two aforementioned beers, then did some added dry hopping, it made sense. I assumed it wouldn't be all that different from the two component beers, but I'm not quite sure of the result: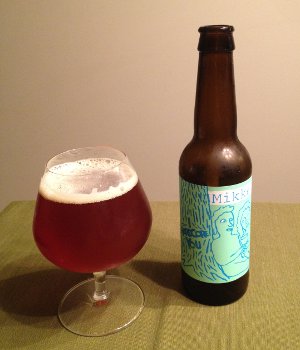 Brewdog and Mikkeller I Hardcore You – Pours a dark amberish brown color with a finger of lightish head. Smells of huge, juicy citrus and lots of resinous pine, with some sugary sweetness in the nose too. Taste is absolutely dominated by hops. Citrus, pine, and a thorough bitterness all throughout the taste. Mouthfeel is full bodied, heavy, well carbonated. Overall, this one seems more messy and unbalanced than its constituent parts, though I haven't had them in quite some time. It feels much more bitter right now too. It's certainly not bad, and I am enjoying it, but I was expecting more. B
Beer Nerd Details: 9.5% ABV bottled (11.2 oz) Drank out of a snifter on 6/15/12.
Great, now I want to go and revisit the component beers again. But I'm guessing that won't happen anytime soon. I'm pretty stocked up at the moment, though I do have a couple Mikkeller beers in the pipeline. Though if I remain a month behind on reviews, you probably won't see anything for a couple months. I may have to do a quick catchup post at some point, but I guess we'll see.