It's not exactly a secret that I love me some bourbon barrel aged beers, so it will come as no surprise that I really enjoyed this offering from Michigan's New Holland Brewery. Maybe I've got a problem, but there's just something magical that happens when you put beer into a bourbon barrel for aging. I just love the added richness of flavor, complexity, and thick, chewy mouthfeel that comes with the territory.
Dragon's Milk is aged in old Heaven Hill Bourbon Barrels for at least 90 days. As previously discussed, this is partially due to the fact that the legal definition of Bourbon says that the whiskey must be aged on new oak, leading to a big secondary market of used oak barrels that brewers can latch onto. But apparently New Holland can only use those secondary Bourbon barrels once to age beer. "Second-use barrels don't give the beer the same character," says New Holland's Brett VanderKamp.
But this is where things get really intriguing. New Holland also runs a small, artisanal spirits business, and they've started to use their old Dragon's Milk barrels to age their whiskey… Consider my mind blown. What a great idea. When I was in line for Dark Wednesday, some beer nerds and I discussed the possibilities of this very thing (aging whiskey in beer barrels). I didn't think it would happen so soon, but it's a welcome development. This is apparently still in the prototyping phase, though both Jim and Don from the Beer and Whisky Brothers managed to get a hold of some of the stuff. The verdict: everyone seems to love it. It seems something magical happens when you put whiskey in a beer barrel for aging. I absolutely need to get my hands on some of this stuff.
In the meantime, I'll have to make do with some regular old Bourbon barrel aged beer: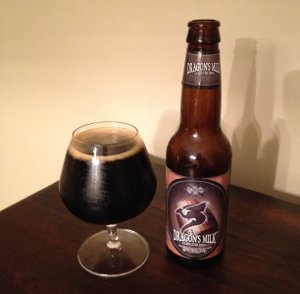 New Holland Dragon's Milk – Pours a very dark brown color, almost black, with a small amount of tan head. Smells fantastic. Lots of roasted malt, caramel, milk chocolate, vanilla, bourbon, and oak in the nose. Taste starts off very sweet, rich flavors of caramel, milk chocolate, vanilla, light bourbon and oak. Just a hint of roasted malts. Mouthfeel is full bodied and chewy, perfectly balanced richness and carbonation. Goes down surprisingly easy, maybe a bit of alcohol warming when you drink quickly, but it still doesn't feel as strong as it is… Overall, fantastic beer! A-
Beer Nerd Details: 10% ABV bottled (12 oz). Drank out of a snifter on 6/1/12.
I have no idea if and when this beer barrel bourbon will be available, but if I get a chance to try some, I'll be sure to let you know. In any case, my consumption of barrel aged beers will probably continue to be unhealthily high. Summer seems a little less barrel-agey, but don't worry, I'm sure I'll be hitting up plenty of interesting stuff in the coming weeks.