Another day, another Victory. This low gravity Dry Irish Stout is only really available on tap (and I'm pretty sure it's only locally available too), so it's not one that I've had often, but it's a solid beer (and though I didn't drink this on St. Patrick's Day, it makes a nice local alternative to the ever present Guinness, especially when it's on nitro tap).
In other news, I'm pretty sure this is the lowest alcohol beer I've ever reviewed (unless you count that non-alcoholic swill we had that one time at Beer Club). Let's do this: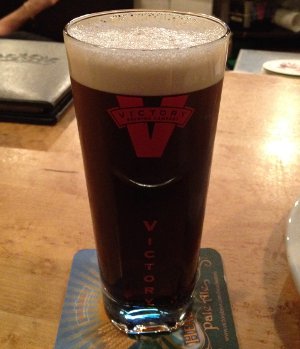 Victory Donnybrook Stout – Pours a very dark brown with a tiny amount of highlights and a finger of thick, light brown head. Smells strongly of roasted malts and a little coffee… Taste features that same roast and coffee character. Mouthfeel is smooth and creamy, very lightly carbonated with a nice light body. Almost quaffable. I'm pretty sure this one was on regular tap, but when it's on nitro, it's much smoother, though still light bodied. Overall, it's a nice stout that's as good as any I've had in the style and as previously mentioned, it makes a nice local alternative to the ever-present Guinness. B
Beer Nerd Details: 3.7% ABV on tap. Drank out of Victory's 0.3L glass on 3/24/12.
I'd like to say that this will probably be my last Victory review for a while, but I think we all know that's not going to happen.
Update: Nope, this is only the second lowest ABV beer I've reviewed. The lowest was Tetley's English Ale, clocking in at 3.6% ABV. However, this beer was a heck of a lot better, so foo on you.