I'm a backwards man. Instead of easing myself into sour beers, I started with the sourest of sours*, a Gueuze that was fine for what it was, but it almost soured** me on sour beers forever. Or for a few weeks, at least. I then moved on to some of Russian River's fabled sours (described on their website as "high" sourness), which I enjoyed quite a bit… and yet, I hadn't really caught the sour bug just yet. And despite some true sour revelations over the past year or so, I still wouldn't call myself a huge fan of sours. But then, I realized that I didn't really start off with the typical beers.
According to dontdrinkbeer, Duchesse De Bourgogne is "The Mistress that Starts Every Man's Sick Foray into Sours" (he also mentions Rodenbach, which has also been on my list at Padraic's urging for quite some time now – I'll get theres someday, I promise). As we've already established, I went backwards, so this was probably the dozenth or so sour I've had… but I'm glad I'm getting back to basics here. So once more unto the breach, dear friends: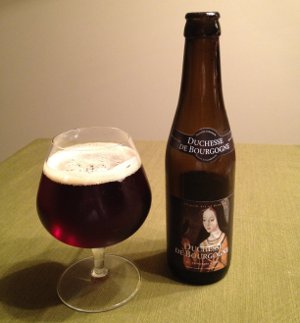 Duchesse De Bourgogne – Pours a dark amber with beautiful highlights when held up to light. Just a bit of light tan head. Smell is quite funky and earthy with a twang in the nose. Taste is very strange. Sweet with a fruity candy character, a little funk emerging in the middle and a light, vinegary sourness hitting in the finish. Well carbonated but but an incredibly smooth, almost creamy mouthfeel. Maybe a little vinegar acidity there, and lots of slickness in the finish. Overall, it's an interesting beer. Not being a big sour guy, it's a bit unusual, and it's not my favorite, but it's very well done. B
Beer Nerd Details: 6% ABV bottled (11.2 oz) Drank out of a snifter on 3/23/12.
I suspect I'd had this beer earlier in my sick foray into sours, I'd have a higher opinion of it. But after having had some revelatory examples, I didn't quite find myself loving this, though it's clearly a good beer. Oh, and while I'm not a huge food and beer pairing guy, I've noticed that Flanders Sours (I've not tried it with others) go really well with both dark chocolate and cheddar cheese. Go figure.
* In case my lack of experience with sours is not apparent, I have no idea whether or not that Gueuze is actually the "sourest" of sours. It's just the one that sticks out in my head as being obscenely sour.
** Pun intended.