I didn't realize this, but apparently Stone tweaks the recipe for their barleywine every year. This partly explains why I was so surprised by this beer. The difference between American and English barleywines tends to come down to hops. American varieties have a ton of them (and we tend to favor the high alpha-acid, citrusy, piney varieties), whilst the English go for a more rounded approach. Knowing what I know of Stone, I would expect this thing to be bursting with hops… what I got was unexpected, but not unpleasantly so.
The first thing worth noting is that this bottle is apparently from early 2010 (I only bought it recently, so I'm not that patient) and so I assume those hops would have mellowed out a bit since it was fresh. The second thing to note is that apparently in 2010 and 2011, Stone went in a more English direction with this beer. According to their blog, there were two big recipe changes in 2010. First, they began using a new crystal malt that was derived from English Maris Otter malts. This change would retain the caramel flavors of other crystal malts, but apparently also contributes a distinct nutty character. Second, rather than using huge US hops for dry hopping, they went with East Kent Golding hops. A smooth, pleasant English aroma hop that has a slight citrus and big floral component (it's apparently the go-to English hop, and it's used extensively in Belgian beers too). Stone also contends that it smells like unicorn tears, but that stuff is rarer than Pliny the Younger, so I haven't had a chance to compare yet*. Now, it's still Stone, so there's 90 IBUs, which is still higher than most English barleywines, but I have to say that I still found this to be more on the English side of things: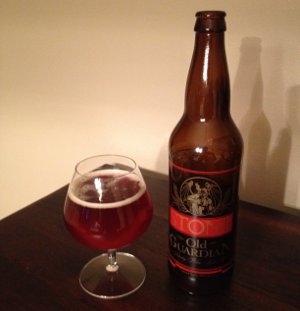 Stone Old Guardian Barleywine 2010 – Pours a deep amberish brown color with a finger of quickly disappearing, light colored head. Intense smells of caramel with some floral hops, fruitiness and lots of booze. Taste starts sweet, with just a bit of that caramel and fruit character emerging in the middle, only to be snuffed out by a heaping helping of booze and balancing hop bitterness in the finish. Mouthfeel is smooth, well carbonated, and a little sticky. Not quite full bodied, but let's say, high-medium bodied. Overall, a solid, if a bit simplistic, barleywine. B+
Beer Nerd Details: 11.1% ABV bottled (22 oz. bomber). Drank out of a snifter on 3/10/12. Bottle sez: "Limited Early 2010 Release". 90 IBUs.
On thing I've just realized is that most of the barleywines I've had have been barrel aged in some way, which perhaps explains why I felt this one was a little simplistic (also why I didn't call it full bodied). I'm kinda curious to try out some of the newer varieties, which have apparently veered back to American hops like Chinook, Calypso and Cascade (so tons of citrus, pine, and resin, as opposed to the floral, unicorn tears of East Kent Hops). And it should go without saying, there are barrel aged versions of this brew that I'd love to get my hands on… As craft brewers go, Stone is so ubiquitous that it's (ironically) easy to forget about them, but I'm always happy to try another of their brews.
* I've recently made the acquaintance of a mythical/endangered species poacher, so I may be able to pick up a growler of unicorn tears next week. Fingers crossed!