Maryland's Flying Dog brewery has never really wowed me with a beer. On the other hand, they've rarely disappointed. Looking through my ratings, almost everything is in the B- to B range, even for well respected stuff like Raging Bitch IPA and their Gonzo Porter. They seem to make well crafted beers, so it's not like I dislike them or anything and I have to admit that their distinctive Ralph Steadman artwork always catches my eye… Also, they've been doing some interesting seasonal stuff of late, like this new Spring offering, a relatively lightweight Bière de Garde that still manages to pack a nice punch: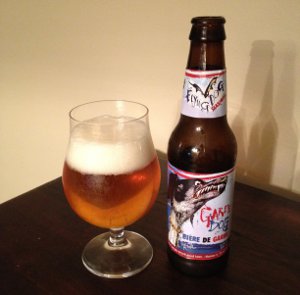 Flying Dog Garde Dog – Pours a clear golden color with lots of fluffy white head. Smells of musty Belgian yeast with some spiciness. Taste is sweet and spicy, finishing quite dry. Mouthfeel is very highly carbonated and packs a bit of a wallop, medium bodied, and dry. Not something you'll gulp down, but it's an easy drinking beer and at 5.5%, you could certainly knock a few of these back at a barbecue or something without getting too sloshed. Overall, this is a solid beer and it's very well executed. It strikes me as a great gateway beer for those folks looking to expand their horizons without getting too crazy. Also a nice beer to transition from the dark, heavy beers of winter into the lighter fare of summer (i.e. a good choice for a spring seasonal). B
Beer Nerd Details: 5.5% ABV bottled (12 oz). Drank out of a tulip glass on 3/17/12.
So it's not a revelation, but it's towards the top of what I've had from Flying Dog. Of course, I'd love to get my hands on some of the Bourbon Barrel Aged Gonzo, and maybe some of their other limited edition stuff too…