Yeah, so remember how I said that I wouldn't go out of my way for Pliny the Younger, Russian River's fabled "triple" IPA? Well, I'm a weak, weak man. My favorite local bar had a rare kegs and eggs event this morning featuring, among other things, Pliny the Younger. They're just down the road, so how could I really turn this down? I got there about 45 minutes before they tapped the keg, got myself a ticket, and partook in some excellent brunch eatings and a neutral Allagash White whilst I waited.
The hype surrounding the ultra-rare but highly rated IPA (as of right now, #1 on Beer Advocate's top beers in the world list) was a bit of a turnoff, but since the hoop-jumping was at a minimum, I couldn't really complain. The Philadelphia area is one of the lucky few to receive some of this stuff, but from reading about past events (mostly in center-city), I can't say I would have been too enthused to participate. The idea of trekking into the city, paying for parking, then waiting in long lines for a couple ounces of the prized brew was not appealing. But this was right down the street, relatively uncrowded, and mostly pleasant. No waiting for 4 hours in the snow, and I didn't have to pay 10 bucks to get a few drips of the beer applied with an eyedropper. I got a whole glass!
The bar got crowded, but never really approached madness. Oh, sure, there were lots of beer dorks in attendance, including some of the more annoying variety (one porn-mustachioed fellow walked up to the bar and proclaimed "You know why I'm here" in this sniveling, condescending tone and accompanying glare that was so annoying I'm surprised the bartender didn't respond with a punch to the face), but for the most part, beer nerds are amiable folk, and a good time was had by all. I even saw one guy sharing his bounty with less prepared strangers who had arrived too late to get their own, which is just plain nice.
For my part, it was a fun experience, and I'm happy to check another white whale beer off the list. But is it the best beer in the world? Did I hear celestial choirs as the angels descended from heaven aboard boats of transcendent light, penetrating through the dank windows of the bar? Let's take a look, shall we: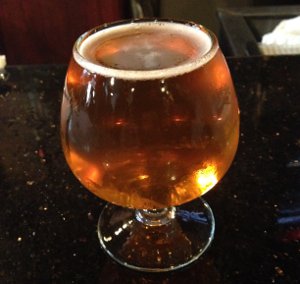 Russian River Pliny the Younger – Pours a shiny gold color with minimal head. Wonderful nose full of citrus & pine. Really fantastic aromas. I just sat there sniffing the stuff for a while, and tried to make the beer last… Taste is full of that same citrus & pine, but it's got a very well matched sweetness & bitterness. It's a hop bomb, to be sure, but it's perfectly balanced with sweet malts. Mouthfeel is very smooth, very drinkable, and again, extremely well balanced. As it warms, a pleasant boozy note emerges, but that doesn't upset the balance at all… Overall, I can see what the hype is all about and I'm really glad I got the chance to try some of this. A
Beer Nerd Details: 10.5% ABV on tap, drank out of a 6 oz mini-snifter.
So is it the best beer in the world? No. But there may have been a hint of those celestial choirs and angels there too. It's a great beer, to be sure, and I loved drinking it, but quite frankly, there are tons of excellent IPAs and DIPAs out there there are close enough, and plenty that are just as good or maybe even better. I had a few glasses of Hopslam on tap this year that were just as good if not better than Pliny the Younger. It's certainly worth the stretch for a glass of the stuff, especially if you're a hophead, but I have a feeling that if I went really far out of my way, I'd be disappointed. Fortunately, that was not necessary. I mean no disrespect, and if Russian River distributed the stuff far and wide, I'd greedily partake in as much as I could, but I think this beer's astronomical ratings are at least partly due to how rare it is. My expectations were mitigated, of course, but they were met by the beer, which is often not the case. I love this beer and I'm really happy I got to try it without having to resort to any diabolical schemes involving the sacrifice of my left shoe and firstborn son…