Brasserie Fantôme, they of the farmhouse saison, is a strange beast. According to Beer Advocate, they currently produce 24 different beers – 20 of which are saisons. And I suspect that most of them are funky, wild saisons (as opposed to super spicy or super dry saisons). I've had a few of their offerings before, but they're hard to find and the labels usually aren't in English (seriously, look at all those accents and umlauts and stuff*) and I never really know what I'm getting. Mysterious stuff but the beer nerds seem to love the beer and all the labels have this mischievous looking ghost on them and what's not to like? I've already talked about the surprise of my first Fantôme experience, and my most recent experience was also surprising, though this time in less of a good way. As Christmas beers go, this one is definitely of the "make it stronger" variety – it's the highest ABV beer they make. Unfortunately, it wasn't carbonated very well: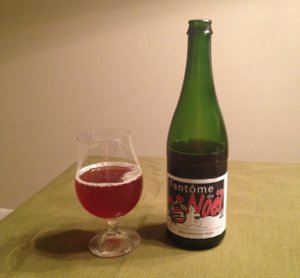 Fantôme De Noël – Pours a surprisingly dark color for a saison. A cloudy brown colored beer with minimal head (seriously, a vigorous pour produced next to no head). Aroma is full of tangy sour smells with a lot of sweetness in the nose as well. Taste is not nearly as sour as I expected from the nose, but there is a tart, tangy character to it. It's very sweet tasting though, with some spicy complexities emerging as it warms. The mouthfeel is very disappointing though. It's light on the carbonation, which makes it a little too syrupy. This is really unfortunate, as the rest of the beer feels like it would be fantastic if only there was some more carbonation… It was certainly drinkable and it's not like I didn't finish the bottle or anything, heck I even enjoyed it, but I was still bummed. B-
Beer Nerd Details: 10% ABV bottled (750 ml capped and corked). Drank out of a tulip on 12/17/11.
As with all things Fantôme, I don't really know what to make of this. Is it supposed to be undercarbonated? Did I just get a bad bottle? Even if it was just a bad bottle, does that indicate lax QA on their part? According to the label, head brewer Danny Prignon changes the recipes for his beers every year. Does that mean that next year's Noël beer could be much better? Strangely, I don't think I'll mind testing that out next year (assuming I can find a bottle). It's all part of the mystique, I guess.
* All two of 'em!