I discovered this beer last year and somehow manged to get my hands on a few bottles to lay down. Since it was such a rich, malty, boozy, almost syrupy beer, I figured that laying it down in my basement for a year would do it some good. And, of course, I needed a basis for comparison, so I picked up a few bottles of the most recent incarnation as well.
Unlike the annual Holiday beers I've been having lately, this one is brewed with the same recipe every year, so drinking these two different versions actually does represent a "vertical" tasting. To recap the beer's background: it's only brewed once a year, on December 6 (for the uninitiated, that's the feast day of Saint Nicholas, hence the name of the beer.) It is then laid down to mature in cold cellars for at least 10 months. This is an extremely long period of secondary fermentation, owing to the beer's extraordinarily high original gravity (apparently around 1.224), which of course leads to an obscenely high alcohol content (14% – thank goodness I was able to get the small bottles for this tasting). Michael Jackson speculates that "the brew is moved from one lagering tank to another, in order to restart the secondary fermentation. The brewery is coy about this, but the fact is that conventional methods will not easily make a beer so strong." This is indeed quite true. Most beer yeasts start to crap out once the beer reaches 9 or 10% ABV, and thus the brewer needs to be tricky to coax more out of the yeast. There are a lot of techniques for doing this, including the use of a more tolerant champagne yeast to finish off the beer. But the brewers of Samichlaus instead prefer to use patience and time (and apparently agitation during the lagering process).
It's not entirely clear to me when this beer is bottled. The labels for the beers showing up on shelves in 2011 said "bottled in 2010". When you consider that this beer is brewed in December, I'm not sure if that means that this year's beer was originally brewed in December 2009, or if the lengthy 10 month aging process all happens in the bottle. Well, whatever the case, the years listed below are what the label says.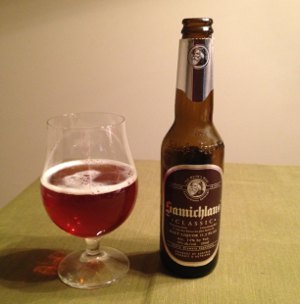 Samichlaus (2010) – Pours a clear amber color with just a hint of head. Smells strongly of clean, dark fruits, along with some general malt-based sweetness and alcohol. The taste is sticky sweet and clean. That muted fruitiness is here in the taste too, maybe raisons or plums. There's a strong alcohol component to the taste, an almost rum-like character. As it warms, complexities emerge. Caramel, brown sugar, and more fruit. The mouthfeel is smooth and slick – actually better than it was on tap, perhaps more carbonation here this time around. The finish is very sticky and sweet, almost syrupy, but it never quite reached cloying, which is good. The alcohol provides a nice warming feeling as you drink. Overall, this year's variety is just as good as I remember, and even more complex. B+
Beer Nerd Details: 14% ABV bottled (11.2 oz). Drank out of a tulip glass on 12/23/11. Bottled in 2010.
Samichlaus (2009) – Pours a clear amber color, maybe a little darker than the newer vintage, with that same minimal head. The smell is similar, though perhaps a little cleaner. That sweet fruitiness and alcohol seem a little more well balanced here, but it's a subtle difference (if there's a difference at all). The taste is also very similar, with that dark fruitiness and sugary character. The real difference is in the mouthfeel, which is a little more creamy than the newer versions. Less sticky and more creamy. Definitely a better balanced version. I'm really glad I still have a few bottles of this year's vintage which I can try in a few years, as I'm sure it will get even better. For now, I'll say that I'm enjoying this more than the 2010 version, but the differences are subtle. Also a B+, but again, this one's slightly better… Perhaps in another year, this one will reach an A-…
Beer Nerd Details: 14% ABV bottled (11.2 oz). Drank out of a tulip glass on 12/23/11. Bottled in 2009.
Well, there you have it. I was drinking these as I wrapped presents and watched Christmas movies, so I had paced myself rather well throughout the night… and I still got pretty well drunk. These things happen. I still have 3 bottles of the 2009 and one of the 2010. I do believe this will become a nice annual tradition in the Kaedrin household. I really can't wait to try one of these 2009 beers a few years from now to see how well the flavors marry.