Beer styles are strange beasts. There are a lot of stories surrounding the origins of many beer styles and they're often vague or conflicting. Take the Baltic Porter style. In my 5 minutes of research, I come away with a number of unanswered questions. Did the style originate in England? Or did it originate in the Baltic states (like Finland, Poland, Denmark, Sweden, etc…)? What's the difference between a Baltic Porter and a strong English Porter? Is the difference that Baltic Porters were brewed with lager yeast (rather than the traditional ale yeast)? Come to think of it, what the hell is the difference between a stout and a porter?
Near as I can tell, the style originated in the Baltic states as an attempt to imitate the English Porters, but perhaps because they're Baltic, they amped up the alcohol. The British were exporting their beers throughout the Baltic region and Russia, so I guess the locals enjoyed the beer so much that they tried their hand at it. There are some sources online that say many of the Baltic breweries switched to lager yeast and processes later, which would certainly lend a different character to the beer (and it makes sense that brewers in the frigid Baltic region would gravitate towards processes that required lower fermentation temperatures), though I also get the impression that many breweries continued to use ale yeast. All of this is still rather fuzzy though.
Ultimately, when you see something at the beer store labeled a Baltic Porter, what you can expect is a porter with a higher than normal alcohol (in the 7-9% range). It's basically the Porter's equivalent of the Russian Imperial Stout. Today's example comes from local brewing hero Victory, who collaborated with Tom Baker from the now defunct Heavyweight brewing to create the beer:
"We were always fans of Tom's beers, his Baltic porter in particular. After he chose to close his brewery and his Baltic porter vanished from the shelves, we were left thirsty for that beer. So, to quench our own thirst and that of consumers, we worked with Tom and shared his notes and thoughts on the style." said Bill Covaleski, president and brewmaster of Victory Brewing Company.
Though inspired by Heavyweight's Perkuno's Hammer, this beer has a slightly different recipe (apparently they wanted to use the same Perkuno's Hammer label, but the local beer distributer objected and Victory thus came up with the Baltic Thunder name). It's also apparently one of the lagered varieties of the Baltic Porter, though I didn't really pick out any of that character in the beer. Speaking of which, here's what I did pick out in the beer: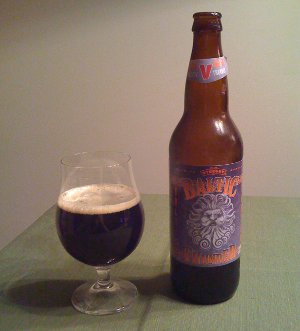 Victory Baltic Thunder – Pours a dark brown color with just a hint of amber highlights and minimal head. Aroma is full of chalky roasted malts, maybe just a hint of fruitiness and chocolate. Taste is nice and sweet, with the caramel and roasted malt character coming out in the middle and lasting through the finish. Really well balanced mouthfeel; nice full body, but the alcohol is well hidden and it still goes down easy. Overall, this is my kinda porter. B+
Beer Nerd Details: 8.5% ABV bottled (22 oz. bomber). Drank out of a tulip on 11/5/11.
So I'm still mopping up some old reviews, after which you can expect the Holiday beer review deluge to begin.