A couple years ago, just as my beer nerdery began flourishing in a big way, I picked up a bottle of Allagash Fluxus 2009. This is a series of beers where the gloves come off, and Allagash's brewers feel free to push the limits of beer. Fluxus comes from the latin, meaning "continuous change", and so many of these beers represent odd mixtures of style or beers with uncommon ingredients. The recipe is very different from year to year. The 2009 version that I had was a saison brewed with sweet potatoes and black pepper. This seemed absurd to me at the time, but it really knocked my socks off. The 2010 variety was apparently an imperial chocolate stout. I never did manage to catch up with one of these (though it was certainly available, I just found myself pursuing other beers at the time). Here in 2011, I see it the beer described as a French-Style Farmhouse Ale (and also as a Biere de Garde). I generally find this a favorable style, so I picked it up: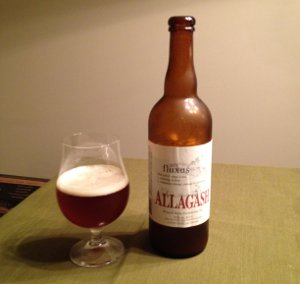 Allagash Fluxus 2011 – Pours a medium amber brown color (copper?) with a finger of light colored head that sticks around a while, but doesn't really leave much lacing. Aroma is strongly influenced by noble hops – earthy and floral, with just a hint of sweetness, maybe even candi sugar or caramel peeking through. It's almost like the nose of an… Oktoberfest beer*? Not what I was expecting at all. The taste has some of that same character, though perhaps the yeastiness is adding complexity too. There are some kinda toasty notes here as well, maybe even some nutty flavors, further lending credence to the Oktoberfest hypothesis. Mouthfeel is actually quite nice. Well balanced carbonation and medium body. Not a quencher at all, but easy to drink and it hides the alcohol well enough. It's a strange melding of styles here. We've got the hopping of a Euro-lager with the spicy yeast character of a French or Belgian ale. A most unusual experiment with an intricate blend of well matched flavors, probably very much in line with the goal of the Fluxus line of beers. Unfortunately, I'm not sure it's really my thing. Hey, this happens from time to time. It's a very well crafted and complex beer, and I'm glad I tried it, but I find myself appreciating it more on an intellectual level than with my taste buds. Perhaps if I was more of a Euro-lager kinda guy, this would rock my world. Alas, I am not that guy. B
Now, I usually try to write my reviews based solely on my initial tasting of the beer, but with beers that come in 750 ml bottles, I tend to try accompanying the second glass of the beer with something to eat. This combination of flavors sometimes produces unexpected results** and sometimes even improves my feeling on the beer***. Usually, this is a snack of cheese and/or crackers, but this time around, I opted for an unconventional accompaniment. For whatever reason, I associate nuts in the shell with the holidays, and I recently picked up some. Given the Oktoberfesty nature of this beer, I thought the toasted, nutty character of the brew would go well with the mixed nuts, so I broke out the nutcracker, and yes, it did indeed match up****. It actually made the second glass from the 750 ml magnum a more enjoyable experience than it normally would have been. I don't think I'd increase the rating of this beer because of this, but I did want to mention it because I found the combination interesting.
Beer Nerd Details: 8% ABV bottled (750 ml caged and corked). Drank out of a tulip on 11/25/11.
Ironically, this is probably the best Oktoberfest beer I've had all year (not that I've had a ton, but still). It's not one of my favorite styles, but this one worked well enough, and I loved the unconventional holiday feeling I got from drinking the second glass.
* According to Allagash's website, the beer is hopped solely with "Alsatian Brewers Gold", which is not technically a noble hop, but it apparently is a very European variety that is used in German lagers, and often appears on Oktoberfest beers. So I'm not crazy. Or rather, I'm not crazy because I detected these aromas/flavors in the beer. I may or may not otherwise be crazy.
** And sometimes it does not. Matching beer with food can be difficult due to the depth and breadth of flavors possible in beer.
*** I think a large part of how I came around on stouts is that I managed to match it well with various cheeses and meats. In particular, I find that Havarti cheese goes well with stouts, and of course, any grilled meat goes well with the roasty flavors. Beer Advocate usually has some suggestions on their sidebars for each beer, though I think it's all based on style and not the specific beer. Nevertheless, I've found it helpful.
**** And now my floor is covered in nut shrapnel.