The Christmas beer was in the fermenter for two weeks, so it was bottling time. Fermentation started quickly, lots of bubbles in the airlock for about 4 days, after which, things trailed off quickly. The biggest question with this brew was the spices and damn, this smelled great. The cloves were probably the most prominent of the spices, but it seemed well matched to the rest of the beer. That being said, I wanted to get some more cinnamon out of this, so I chucked a few cinnamon sticks in the bottling bucket to give it some extra… cinnamonity? And the finished product did indeed seem to display a little more cinnamonitivity. My guess is that the spiciness will fade in time, so this will probably be nice and complex by Christmas.
Final gravity was 1.014, which was a hair lower than expected, but that's a pleasant surprise. If my calculations are correct, this will bring the beer to around 6% ABV, which was my exact target. I gave it a taste, and it seems pretty good. I don't really have a feel for how non-carbonated beer will taste once it's carbonated, but this seems right. Nice spiciness, good body, seems like it will be good stuff. The appearance is a very pretty dark amber color.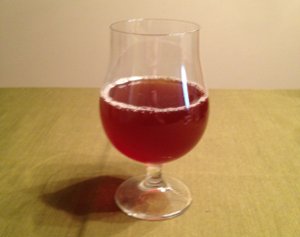 There's about 6 weeks before Christmas, which should give it enough time to condition in the bottle. My saison was awesome at week one, but that's rare and in this case, I'm assuming the spices need some time to settle down. 6 weeks should do the trick.
Not sure what's next. I'm saving the dubbel for the summer and since it's winter, I'd like to make something that requires lower fermentation temperatures. An IPA (single hopped Simcoe?) or maybe a British ESB of some kind (my nutty idea is to get me some bergamot oil and make an Earl Grey British ale, maybe even using some tea in the initial steeping phase.) Funnily enough, a lot of Christmas beers say that they get better with age, so I might even want to make next year's Christmas beer now, and age it. Or something. I was also thinking that it might be time to get a secondary fermenter, which would allow all sorts of fun stuff like dry hopping and oak aging (and bourbon oak aging!)
(Cross Posted on Kaedrin Weblog)